Airhead AHW-3020 Radical Wakeboard
$158.17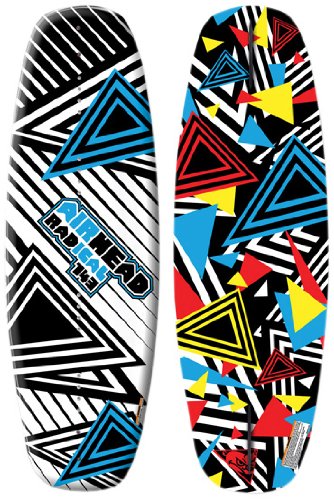 There are some really eye catching wakeboards out there, and Airhead created many of them. If you're looking for a board with a bit more pop that lives up to the standards of what all riders have come to expect, than we have yet another for you. Finding that special wakeboard with visual appeal a that is a great transitional wakeboard from beginner to experienced is something that many manufacturers other than Airhead has been able to accomplish.
The Airhead AHW-3020 Radical Wakeboard is everything but simple as it overs a great start for beginners while making it possible to keep the same board as you gain experience. The learning curve of the Radical is quick and easy, but the customizable options such as removable fins will help transitional riders step up their game.
Easy for Beginners, Great for Intermediates
The Airhead Radical Wakeboard is a great board for learning. Beginners more than 150 pounds can take advantage of subtle wakes with this 143cm high performance wakeboard. Over-time, you can step up your game with not one, but two removable fins for superior tracking.
Smooth transitions going into the wake and coming out are simple, especially with the consistent release due to the rounded end profile and a beveled perimeter. This is what intermediates and more experienced riders look for and gives beginners a great starting point, and something to look forward to.
Smooth Turns and Consistent Pop
If you talk to some of the most experienced wakeboarders, they will probably tell you that turns and pop are two of top aspects that distinguishes a wakeboard from an amazing wakeboard. This is where Airhead's Radical Wakeboard does a great job separating itself from the rest of the competition, and coming in at just over $150 bucks doesn't hurt either.
The beveled perimeter and rounded end profile helps transition into smooth turns while offering some amazing pop throughout the wake. Coupled with amazing tracking thanks to the two removable fiberglass reinforced nylon fins, there's not much more you could ask for. For those looking for a thrilling ride, the AHW-3020 Radical wakeboard will not disappoint.
Specifications and Features
10.3 pounds
12 x 18 x 60 inches
143cm
2 removable fiberglass reinforced nylon fins
RIM-molded PU-core construction with fiberglass rods
Suitable for beginners, but better for intermediates
Unique geometric design appearance
Recommended for riders over 150 pounds
Check Out Our Review on the Best Airhead Wakeboards this Year
Pros
Great transitional wakeboard from beginner to intermediate
Superior durability
Great release off wakes
Great tracking
Unique geometric appearance
Cons
Geometric design is an acquired taste
Verdict
The thing about the Airhead AHW-3020 Radical Wakeboard is that you'll either love it or hate it. The performance of the ride is exceptional and is well-above the standards of most other boards in its class. With two removable fiberglass fins, riders over 150 pounds can enjoy the amazing ride before and after the wake. The unique geometric design is something that riders will either appreciate or won't give it the time of day.