AIRHEAD AHW-4020 Fluid Wakeboard
$155.36
Pros
Designed for intermediate and experienced riders
Great speed going into the wake without stomp landings
Great tracking
Removable fins provide different riding experiences
Cons
Not designed for riders more than 170 pounds
Weighs more than other wakeboards in its class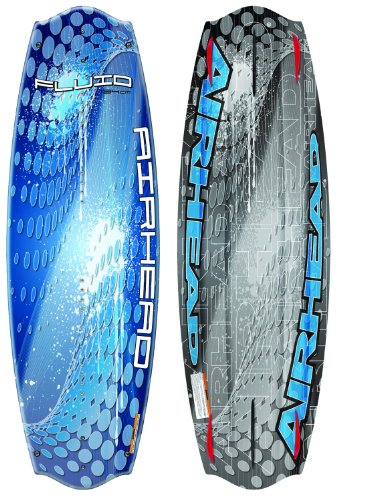 Airhead wakeboards have become some of the most widely popular around the world, and when breaking down why there are literally numerous reasons for this. Some of the most notable are the many styling options that appeals to a wide array of riders including some very unique patterns. Aside from this, beginners and intermediates have come to appreciate specifically what Airhead wakeboards were meant to be, and have lived to those expectations.
The Airhead AHW-4020 Fluid Wakeboard offers a unique pattern that is easily discernable from all others. The fluid pattern is one of the best looking that I've seen, and when looking at what's underneath it all it lives up to rider's expectations. The AHW-4020 Fluid Wakeboard was designed specifically for intermediate and experienced riders weighing between 90 and 170 pounds that provides exceptional hold and tracking.
Amazing 6 Fin Dual Thruster Setup
The Airhead AHW-4020 boasts a 6 fin dual thruster setup which provides superior hold and tracking. This exceptional quality of the 4020 helps it standout which is something that intermediates and some of the most experienced riders have come to appreciate. This adds to the overall rider experience which makes going into the wake a thrill-full ride each and every time.
The 6 fin setup is further complimented by the removable center fins and the angled side fins. With an angle of 11 degrees, the side fins are curved and angled outwards which provides an extra edge hold and lose feel in neutral. With stomp landings, more speed going into the wake, and all without slipping out, those who can handle the ride will more than enjoy it.
Continuous Rocker and Much More, For a Price That's Much Less
Airhead has done a great job with adding much more while keeping the price of their boards very affordable. The AHW-4020 is another representation of a feature rich wakeboard that comes in much less than other wakeboards in its class. With a price tag that comes in around $150, it's hard to not appreciate it from the start.
The AHW-4020 has a continuous rocker which is something that experienced riders have come to expect. In order to get the best ride imaginable, being able to not only handle the wake, but go in and come out with a great deal of speed is paramount. The continuous rocker and, 6-fin dual thruster, and angled side fins all complement each other, and all this for a price that's much less.
Specifications and Features
10 pounds
56 x 18 x 12 inches
134cm
Continuous rocker
6 fin thruster system
Removable center fins for great tracking
Curved and angled side fins
Check Out Our Review on the Best Airhead Wakeboards this Year
Pros
Designed for intermediate and experienced riders
Great tracking
Great speed going into the wake without stomp landings
Removable fins provide different riding experiences
Cons
Not designed for riders more than 170 pounds
Weighs more than other wakeboards in its class
Verdict
If you're a rider weighing less than 170 pounds, than we highly recommend the Airhead AHW-4020 Fluid wakeboard. The styling appearance is something that will appeal to many riders as it's hard to find something that looks this good, and rides even better. The speed and performance of the Fluid wakeboard due to Airhead's unique features makes this is a great purchase at this price, but it could have been better if the weight was slightly less.