Body Glove Modified Ladies Wakeboard
$185.00
Pros
Bindings fit most women's shoe sizes
Soft landings
Great graphics for a women's wakeboard
Wide design gives perfect landings
Custom and secure fit with the universal bindings
Cons
Appearance won't appeal to all
Not suited for aggressive riders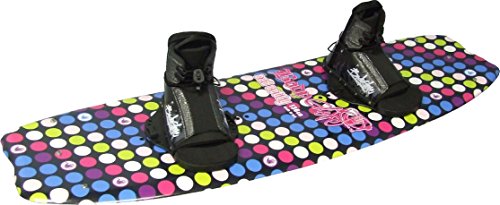 There aren't many women's wakeboards out there that were meant for women to own the wake, but Body Glove did a great job in fixing that. Body Glove has easily become one of the biggest names in water sports with their lineup of wakeboards offering a great deal of appeal and performance. Their latest boards offer a great deal of versatility which is something that has been lacking for females, until now.
The Body Glove Modified Ladies Wakeboard is one of those very versatile boards that demand attention for women at first sight. This board offers a unique styling pattern that will either have female riders loving it or hating it from the very first moment. Complete with a set of camo bindings, this Body Glove wakeboard offers a great deal of stability and control
Custom Fit with the Universal Camo Bindings
Body Glove's Modified Ladies wakeboard offers a custom fit thanks to the universal camo bindings. Giving riders a sure and comfortable fit that is tailored to one's specific shoe size, remaining stable throughout the ride is almost certain. Most women will be able to fit in the bindings as they fit almost all women's shoe sizes.
Aside from the bindings, the board offers a cool twin tip design. This makes cutting through the water seem so easy and gives that extra lift off of the wake. Stability thanks to the wide design which culminates with soft landings each and every time.
Visually Appealing, but Not for All
At first sight, the Body Glove Modified Ladies Wakeboard offers a truly distinct and unique look. This women's wakeboard will definitely turn heads, but not all riders will find this board visually appealing. The modern look that offers a sense of pizazz was constructed to stand out, which is something that not all riders want to do.
16 x 13 x 56 inches
Twin Tip Design
Unique women's graphics
Deep center fins
Camo bindings included
Wide design
Sturdy construction
Check Out Our Review for the Best Wakeboards of the Year
Pros
Bindings fit most women's shoe sizes
Soft landings
Great graphics for a women's wakeboard
Durable
Wide design gives perfect landings
Custom and secure fit with the universal bindings
Fits most women's shoe sizes
Cons
Appearance won't appeal to all
Not suited for aggressive riders
Verdict
The Body Glove Modified Ladies Wakeboard comes in as a good choice, but not the best. One of the best parts of this board is the stable ride and the fact that it's a complete package. The camo bindings are one less thing you'll have to worry about, and at this price it's simply hard to resist. A performance board, yes, but not the best women's performance wakeboard on the market.
Price Disclaimer