CWB 2016 Faction Wakeboard
$289.95
Pros
Center Channel is Variable
Shallow spine makes landings soft
Fast board and maneuverable
Perfect amount of grip on edge
Latest and upgraded model of the earlier CWB Faction Wakeboard
Cons
Beginners can't use it
Weight range can limit some professional riders as well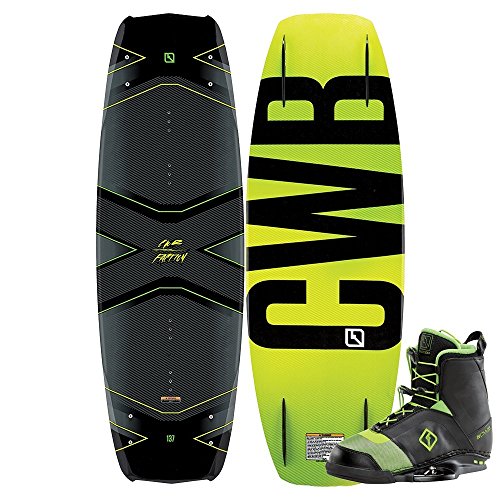 Wakeboards and CWB are directly related. With an increase in trend of wakeboarding, many companies including CWB are making more and more wakeboards for users. Even though these wakeboards are quite expensive as they cost around $300-500 dollars usually.
Despite the high price, the trend in wakeboarding is consistently increasing. CWB has a wide range of wakeboard for intermediate to professional riders. The Faction 2016 is a development to the earlier Faction wakeboard and a much improved model.
All New 2016 model
Faction 2016 is now an improved model for the earlier Faction wakeboards designed by CWB. Coming with added versatility but maintaining the amazing experience and feels, the Faction is a great choice for customers. It comes in two different sizes of 138cm and 142cm both of which can be used by intermediate to advanced level riders. The maximum weight range is also improved to 160 pounds maximum.
Fast, Maneuverable and Amazing!
With a shallow channel through the center of the board towards the tip and tail of the wakeboard, the wakeboard becomes fast and maneuverable as well. You get the perfect grip on edges as well. With a shallow center spine, landings are a bit soft while also lifting the board flat on features.
Just in case you want to take a lap at the park, there are four bolts on fins which are removable as well so don't worry; you got everything you need.
Specs and Features
Made in the US
Pro-Core
Skill level: Intermediate- Advanced
Available in 138cm and 142cm models
Rocker Type: Continuous 3-stage rocker
Rocker height: 2.85" in 138cm and 2.95" in 142cm
Tip/Tail Width 11.96" in 138cm and 12.10" in 142cm
Center Width 17.05" in 138cm and 17.25" in 142cm
Weight Range: Max 160 pounds for 138 cm and Max 150 pounds for 142 cm
Four 1" bolt on fins
Check Out our Review of the Best CWB Wakeboards this Year
Pros
Center Channel is Variable
Shallow spine makes landings soft
Fast board and maneuverable
Perfect amount of grip on edge
Latest and upgraded model of the earlier CWB Faction Wakeboard
Cons
Beginners can't use it
Weight range can limit some professional riders as well
Verdict
The faction 2016 is better than the best. It is redesigned, developed and improved to meet your needs. With high speeds, you can now play some cool tricks and amazing stunts on this wakeboard as well. All you need to do is get a good grip on wakeboards by learning from the beginner level ones.
Once you know how to control wakeboards and how to use them effectively, then you can use the Faction 2016 as well and enjoy.
Price Disclaimer