CWB 2017 Connelly Reverb Empire Wakeboard
$379.99
CWB is a very popular wakeboard and clothing company that produces products that are extremely durable, long lasting and efficient at the same time. One such production of the CWB is the CWB 2017 Connelly Reverb Empire Wakeboard. It is very easy and comfortable for the riders of all ages and a wide range of weights.
It has an ABS rail that has a variable height and can extend 1 inch into the board for increasing the board strength and making it safer. It has four fiberglass fins inside the board and the center one that is detachable. The base of the wakeboard is slick and very strong. Know more about this wakeboard in the review below.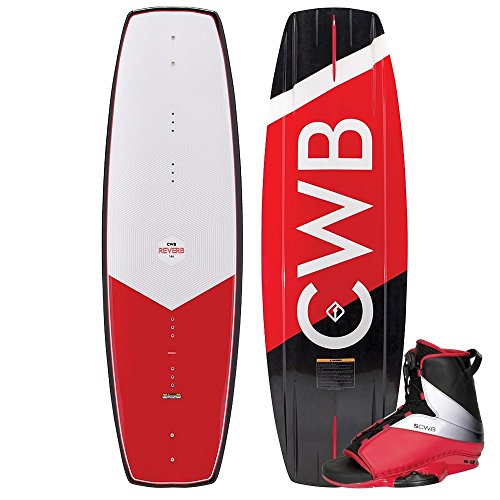 V-tech in Tip and Tail
Having a v-tech in tip and tail is quite useful for the rider since it helps in making a smooth transition between the two edges and helps in making smooth landings. For all those having a fear of somewhat hard landings should no longer be worried since this wakeboard comes with a v-tech in tip and tail that is surely going to help you out in all the difficult riding times.
Other than that, the 2017 Connelly Reverb Empire Wakeboard comes with amazing bindings. Both the board and the bindings are available in multiple sizes that make it easier for the user to have the size according to their requirements.
Center Spine
The center spine of the 2017 Connelly Reverb Empire is a full length one which makes it a good riding experience for the rider. There is a 3-stage rocker as well which helps in giving an extra pop off the launch so that you are able to practice your skills.
It is the right wakeboard for the beginners as it comes with a proper guidebook and owner's manual that would help the beginner in having a great experience with his or her first wakeboard. The fin configuration is similar to other wakeboard where there are 4 x 4 molded fins along with a 1 inch removable center fin too.
Specs and Features
Color 2017 WITH BOOT
Item Weight 12 pounds
Package Height 9 x 20 x 60 inches
Shipping Weight 5 pounds
Size Multiple sizes available
Sport Type water-sports
Fin configuration: 4 x 4 molded fins
1 inch removable center fin
3-stage rocker
Pros
Ideal for beginners as it comes with manual
Provides soft landings
Gives an extra launch off the wake
Full length center spine
Comes with bindings
Cons
Verdict
Coming with a boot and multiple sizes, the CWB 2017 Connelly Reverb Empire Wakeboard is surely going to be a great one for different types of users. However, it is not recommended for experts or advanced level users. There are multiple sizes available and you can select the ones which are suitable for you.
Make sure you select the right pair of bindings as well to avoid any inconvenience later on. It is surely going to be a great time pass for you and your family at the beach so have this wakeboard bought and have your young one learn the skill of wakeboarding.