CWB 2017 Faction Wakeboard with LTD Faction Bindings
$279.99
Pros
Includes the highly regarded Faction Bindings
Offers great grip
Lightweight and durable wakeboard
Smooth edge to edge transitions
Recommended for experienced riders
Cons
Difficult board for beginners to learn on
Once you learn wakeboarding on a beginner level wakeboard, you might get excited about it and you would want another wakeboard which would further polish up your wakeboarding skills. Why would you require a new wakeboard? Well, the answer is quite simple. The beginner level wakeboard has become too easy for you now.
You now want to move on to a professional level where you can learn many new tricks and ride the wakeboard at much higher speeds as well. The CWB 2017 Faction Wakeboard with LTD Faction Bindings is made for those who have completed their beginner stage and are now on the pro-level.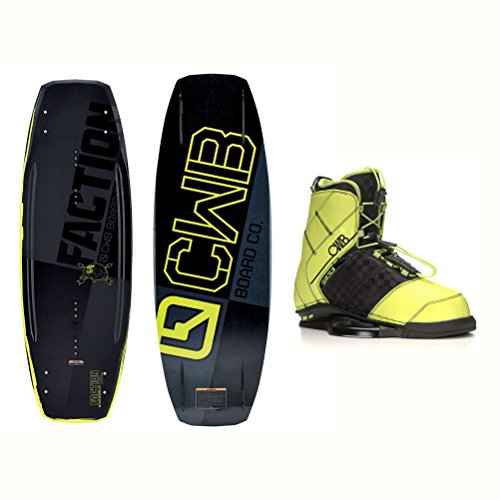 Multiple Size Availability
The CWB 2017 Faction Wakeboard which includes the LTD Faction Bindings is available in one size which is large and the length of the board is 138cm. however, it comes with bindings as well which are available in medium, large, and extra-large sizes which surely means that you will be able to find the right pair for yourself.
The LTD faction bindings will be helpful in accomplishment of your wakeboarding stunts. Since they are light and strong, they are quite useful for the user. The biddings are surely a great addition in the Faction 2017 wakeboard. The price seems to be suitable for both items as well.
Minimized Effect
The effect of hard landings on your body as well as ride can be too much which can lead you to body pain or failure to ride the wakeboard in an effective manner. However, the problem will not be here since the Cush liner and shock pads are present which reduce the shock from big landings.
Other than that, there is a huge center spine running from tip to rail that assists in softer landings and minimized impact on your knees. Moreover, you will have a lot of grip since you will have four fins in this wakeboard. The rocker is continuous and is 2.49 inches in its size which is suitable enough for a perfect riding experience.
Specs and Features
Construction: Smooth Flat Bottom Design
Huge Center Spine from tip to tail,
Fin Configuration: Four Bolt on Aluminum Fins
Weight Range: up to 160lbs.
Size: 138cm – Large
Rocker Type: Continuous
Edge: Beveled Variable
Rocker: 2.91in
Skill Range: Advanced Intermediate – Expert
Model Year: 2017
Pros
Faction bindings are great one
Helps in absorbing shocks and providing soft landings
Best for advanced and expert users
Easy to transition between edge to edge
Lightweight and durable
A lot of grip
Cons
Verdict
The verdict for the CWB 2017 Faction Wakeboard with LTD Faction Bindings goes out in the positive due to the amazing features as well as the LTD faction bindings that are given in the same price. The construction type is a smooth flat bottom design which is a great one and it is not found in most of the wakeboards made today.
Not many flaws are reported but it is surely not for a beginner as the small size of bindings is also not available for the users. We hope you have a great experience with this 2017 CWB Faction wakeboard and you enjoy riding on shore.