CWB 2017 Reverb Wakeboard with Optima 2 Bindings
$$
Pros
Great wakeboard for experienced riders
Includes Optima bindings
Durable and long-lasting wakeboard
Specifically designed for tricks and extreme riding
Very smooth ride
Cons
Not recommended for beginners
Rocker could be faster
Not recommended for riders over 140-pounds
Wakeboarding is an amazing water sport and many people just love riding wakeboards. CWB is a well-renowned brand when it comes to wakeboards and other wakeboarding equipment. CWB has wakeboards for all types of riders, be it a beginner, intermediate, or an advanced rider.
The best thing about CWB's wakeboards is that each of them has a different design and features and most of these wakeboards are made according to most users' requirement. When it comes down to a professional riding experience, the CWB 2017 Reverb Wakeboard with Optima 2 Bindings becomes a good choice.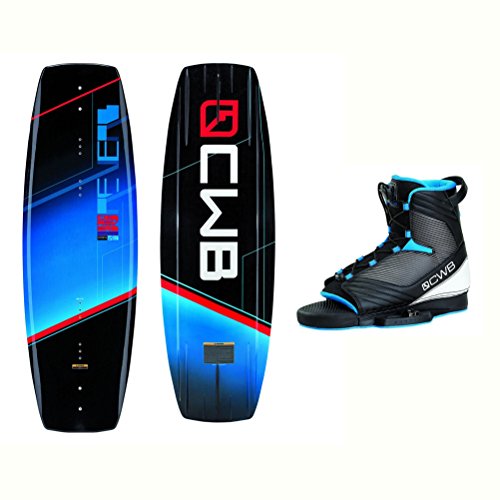 Professionals Only
The CWB 2017 Reverb Wakeboard is made for those advanced users who have already passed the basic stages and now they want something tough to ride to accomplish even further. Having said that, the specifications and the price of this wakeboard are slightly higher than that of a regular wakeboard. This board comes with a deep channel that enhances your control over the wakeboard.
Full length center spine is there as well which helps in lowering the impact given upon landings. The best part about this wakeboard is the fact that it comes with a 4 x 4 molded fin package along with a removable plastic center fin as well.
Get Laced Up
Yes! This CWB wakeboard comes with the right pair of bindings as well. The optimas are quite easy to work with since they are easily adjustable and easy to get into. You can have them used with this wakeboard and you will surely not regret it. Available in two different sizes, these Optimas come with the package.
The construction type for this wakeboard is system 80 core which is a tough one that guarantees the smoothness and durability of this wakeboard as well. The rocker is 3-stage and it is 2.49 inches in size which is suitable enough for a professional.
Specs and Features
Fin Configuration: 4×4 Molded Fins with 1in Removable Center Fin
Weight Range: up to 140lbs (@136cm) / 130lbs+ (@141cm) / 140lbs+ (@146cm)
Rocker Type: 3 Stage, Rocker: 2.49in (@136cm) / 2.57in (@141cm) / 2.65in (@146cm)
Board Width: 17.05in (@141cm)
Skill Range: Beginner – Advanced Intermediate
Model Year: 2017
Optima 2 bindings
Construction: System 80 Core
Pros
Comes with a great pair of bindings
Provides an explosive pop over the wake
Provides a smooth ride
Durable and long lasting
Made for having extreme stunts
Cons
Not a good choice for beginners
Low maximum weight of riders
Not as fast as other CWB wakeboards
Verdict
The verdict for the CWB 2017 Reverb Wakeboard with Optima 2 Bindings goes out in the positive for all those who think they have aced the beginner and intermediate level of riding and they are ready for something even tougher.
This wakeboard is going to last more than a season and it will not only be providing a great physical exercise but also helps in providing a great time of stunts and showing your skills. Have an explosive pop over the wake and enjoy the durable bindings which are a part of these bindings. We hope you have a great experience with this wakeboard. Get it from amazon.com right away.