Hydroslide Helix 56 Inch Wakeboard
$217.71
Pros
Suitable for aggressive wakeboarding
Very durable wakeboard
Amazing price
Secure and stable ankle support
Very strong thanks to the carbon fiber construction
Cons
Bindings have durability questions
Bindings need to be broken in for a comfortable fit
Lacking in comfort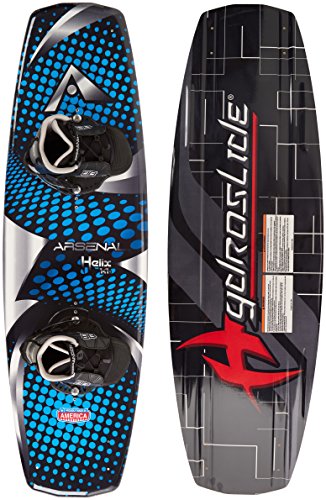 Performance wakeboards is where it's all at, and when looking to get some serious air or inventing your own tricks and other stunts it really comes down to the board. There are many things to consider if you're an intermediate or advanced rider that will help you own the wake, and Hydroslide has taken them all into consideration. Some of the highest quality boards which are best suited for experienced riders have been introduced by Hydroslide including the one below.
The Hydroslide Helix 56 Inch Wakeboard is highly recommended for intermediate and advanced riders as the board has to live up to some of the most aggressive riding types. The Helix Arsenal features a unique two-stage modified design which allows riders to truly conquer wakeboarding. If you're looking for something truly refined, the following review may just make you a believer just like many riders before you.
Unique Two-Stage Modified Design
The Hydroslide Helix 56 Inch Wakeboard offers a unique two-stage modified design. This unforgiving design quality makes it much easier to cut through water with ease and very easy to ride. Intermediates and more advanced riders looking for a big air board and one that allows you to perfect tricks will fall in love with this Helix. The modified design gives you a forgiving time on the water with great speed and precision.
Durable Board, But Less than Durable Bindings
The Hydroslide Helix Wakeboard boasts a very strong and durable carbon fiber reinforced construction. This means it's very lightweight while offering a great deal of strength which makes it better suited for aggressive and adult riders alike. The carbon fiber feature makes for a very sturdy construction with riders getting years of rugged, and very aggressive use.
On the other hand, the bindings have raised some serious durability concerns. Some consumes on Amazon have stated the bindings will fall apart after some of the toughest use and the bindings themselves are far from the most comfortable. This is definitely something to consider as comfort is easy to overlook until you get on the board which is virtually too late.
Specifications and Features
17.8 pounds – shipping weight
56-inches long
15 x 18.5 x 54.75 inches
Two Stage Modified design
Recommended for adult and advanced riders
Brandon Bindings included
Sturdy carbon reinforced construction
Check Out Our Review for the Best Wakeboards of the Year
Pros
Suitable for aggressive wakeboarding
Very durable wakeboard
Amazing price
Secure and stable ankle support
Great for perfecting tricks, jumps and other stunts
Strong thanks to the carbon fiber construction
Fits most adult shoe sizes
Can accommodate riders more than 200 pounds
Cons
Bindings have durability questions
Bindings need to be broken in for a comfortable fit
Lacking in comfort
Verdict
The price of this wakeboard has just been reduced $75 which looks much better at $225 than nearly $300 bucks. Built with the needs of aggressive riders in mind with the exception of the bindings, the overall package may look nice, but there are definitely other wakeboards out there that perform better for the long-term.
If you're in the market for a true high performance board then the Hydroslide Helix may be it, but don't expect it to last for more than a year if you're planning on using it aggressively.