Hydroslide WB1012 Matrix Wakeboard
$149.99
Pros
Great for adult riders
Very stable and great ankle support
Fits most adult shoe sizes
Budget friendly price
Wide design offers great balance
Cons
Not very fast
Landing could be much softer
Not recommended for aggressive riders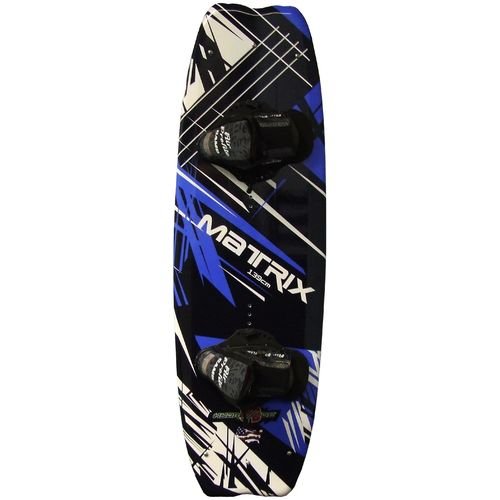 Being around since 1976 gives Hydroslide a competitive edge over most manufacturers as they have been around the block long enough to know, well, everything within the industry. A manufacturer such as this brings with them a great deal of expertise with wakeboards which is one of the biggest reasons they've become an industry leader. Introducing boards for all riders has made them one of the most recognized names in water sports.
The Hydroslide WB1012 Matrix Wakeboard is one of their budget friendly boards that offers a great deal of class and performance. The Matrix offers a good styling package and its competitive price appeals to a wide array of riders. Recommended for those over 125 pounds, it proves that it's more than enough to handle some of the toughest wakes which is what performance riders are looking for.
Great Deal for the Money
Hydroslide has introduced wakeboards for all skill levels, performance levels, and of course price. The wide array of types of boards from one of the most trusted manufacturers has given them some of the most loyal consumers in water sports. The Matrix wakeboard is yet another board which was introduced for yet another subset of riders including beginners, and not for those into extreme water sports.
The Hydroslide Matrix wakeboard will set you back around $150, but gives you some really great features. With a 4-point design that improves stability, cutting, and turning and a continuous rocker that was intended to create softer landings. When comparing it to other boards, the landing could be much better which is something that is really disappointing with the Matrix. Still, it's a great deal for the money.
Stable Board, Stable Bindings
The Matrix offers a great deal of stability. The wide design gives you some added real estate which significantly improves balance. Those into wakeboarding know how important balance is to the rider, and the board can make all the difference.
This board also comes complete with a very nice set of bindings. The Hold Um Bindings are included and provide very good ankle support to most adult riders. The camo bindings will fit most adult shoe sizes, and the board itself is recommended for rides more than 125 pounds.
Specifications and Features
15 pounds – shipping weight
139cm
4-point design
Continuous rocker
Accommodates riders more than 125 pounds
Wide center design
Hold Um Bindings included
Check Out This Review of the Best Wakeboards this Year
Pros
Great for adult riders
Very stable and great ankle support
Fits most adult shoe sizes
Budget friendly price
Wide design offers great balance
Cons
Not very fast
Landing could be much softer
Not recommended for aggressive riders
Verdict
The verdict on the Hydroslide WB1012 Matrix Wakeboard is mixed with the biggest positives on the price, and the biggest negatives on the performance. This by far is not one of Hydroslide's best wakeboards out there, but it still appeals to those occasional riders looking to not spend a fortune. Recommended for budget minded consumers, but not aggressive, everyday riders.