Hyperlite 2016 HL Union Wakeboard
$398.91
Pros
Nearly indestructible construction
Great performance wakeboard for women
Highly durable
Great pop off the wake
Handles aggressive riding
Cons
Boring graphics
Expensive
Weighs more than other women's performance wakeboards
Minimal ride customizations
High learning curve, not suitable for beginners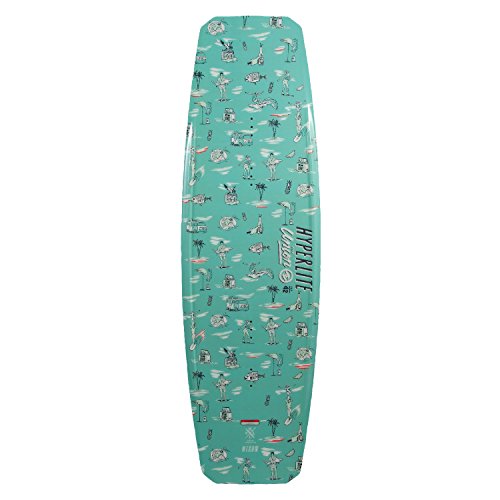 Hyperlite has one of the most impressive lineup of women's wakeboards, and mixed with names like Union which has become one of their best-selling lines you know to expect. The Union lineup has debuted with all of the top features that we've seen in Hyperlite wakeboards which has helped make them one of the most respected on the market. With such a wide assortment of boards on the market for women riders, finding that special one is more like finding a diamond in the ruff.
The Hyperlite 2016 HL Union Wakeboard offers a unique styling package, but what makes this board standout are the performance features. Dubbed as the best Union wakeboard yet, it comes in two different sizes which include 138 and 142cm. Combining two of the most durable constructions we've seen in wakeboards, riders get the confidence they need if their looking forward to aggressive riding.
Speed, Speed, and More Speed
If you're looking for speed, the 2016 HL Union gives you as much as you can handle. This may be one of the fastest Hyperlite wakeboards for women there are, as it naturally cuts through the water like glass. The unique wishbone shape literally pushes the water around it effortlessly giving riders an experience that is hard to replicate.
The power press rocker gives riders the ability to lock into designed presses. For those looking to own the pipe, the tip and tail will allow you to do just that.
Great Performance Wakeboard, but Not for Beginners
The Hyperlite 2016 HL Union Wakeboard was truly built with performance in mind, and with its high learning curve it's not the best option for beginners. Beginners will find that it's too fast which will make staying on the board harder than most, and with higher end features such as the power press rocker and no fins, it doesn't get any easier.
This board is definitely better suited for intermediates and expert riders. Boasting a finless feature hurts with customizable options, but thanks to the unique wishbone design most don't even realize it.
Check Out Our Review of the Best Hyperlite Wakeboards this Year
Specifications and Features
Available in 138cm and 142cm length
Fully Machined Crossover Wakeboard
Flex Core Combining E-Core and Bio 3Pros
Enduro base material
Unique wishbone design
Power press rocker
Finless feature
Recommended for intermediate and professional riders
Pros
Nearly indestructible construction
Great performance wakeboard for women
Highly durable
Great pop off the wake
Great speed
Handles aggressive riding
Cons
Boring graphics
Weighs more than other women's performance wakeboards
Expensive
No fins
Minimal ride customizations
High learning curve, not suitable for beginners
Verdict
The Hyperlite 2016 HL Union Wakeboard is a good board, but it's definitely not the best performance board out there for women. The graphics are somewhat boring, and when looking at the price you would think it would look better and perform better. The durability and speed are added bonuses, but the appearance, weight, and price could definitely be better.
Our recommendation is to keep on looking if you're in the market for a high end women's performance wakeboard.