Hyperlite 2016 Kruz Bio Wakeboard
$320.00
Pros
Lightweight and durable construction
Much improved rocker feature than standard performance wakeboards
Less delamination thanks to the top and bottom glass
Shorter length, but wider adding surface area
Handles aggressive riding
Cons
Not recommended for beginners
High learning curve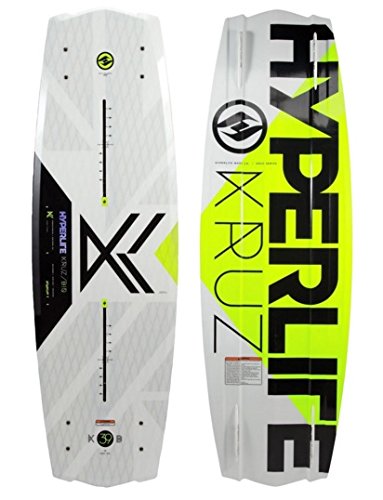 Hyperlite wakeboards are some of the most sophisticated that you'll ever find on the market as they come in a wide array of styling and performance options. Some of their newest boards which debuted as 2016 models have been improved upon in all aspects which includes all of their top sellers. Hyperlite has a proven track record in water sports and their newest line is more impressive than ever.
One of their latest has a minimalistic appearance, but screams high-end in every aspect. The Hyperlite 2016 Kruz Bio Wakeboard offers some of the best performance features that have yet to be seen in a wakeboard which gives it instant credibility for all riders. This board appeals to high end riders looking for a true performance board that can handle some of the most rigorous wakeboarding.
Featuring Gold Standard Core Material
Nothing has been sparred in the 2016 Kruz Bio wakeboard as it features Biolite 3 Core which has become the gold standard within the industry. Biolite 3 is the most durable and lightest construction on the market, and has become featured in all of Hyperlite's top performance boards.
Integrated with Monocoque Construction, the durability of the Kruz Bio 2016 model is one of the best out there. This new construction significantly helps with delamination and those unfortunate side impacts. This board features top and bottom glass giving riders superior protection which means years of aggressive riding.
More Speed with Rocker Line
Hyperlite elected to go with a new rocker line which is an Abrupt Continuous Rocker. This rocker adds much more speed and allows riders to transition from wake to wake with ease and adds more pop without a loss in speed. This is what riders look for, and the abrupt continuous rocker makes it all possible.
Check Out Our Review of the Best Hyperlite Wakeboards this Year
Specifications and Features
14 pounds – shipping weight
CarboNetX Inlay
M6 Strata Mounting System included
Biolite 3 Core
Abrupt Continuous Rocker
Monocoque Construction
Two Stage Channel
9 Degree Angled Fins
Recommended for intermediate and professional riders
Pros
Lightweight and durable construction
Much improved rocker feature than standard performance wakeboards
Less delamination thanks to the top and bottom glass
Shorter length, but wider adding surface area
Handles aggressive riding
Cons
Not recommended for beginners
High learning curve
Verdict
The Hyperlite 2016 Kruz Bio Wakeboard is definitely not for everybody, but for intermediates and professional riders this is a must have. This is a must improved over the former Kruz wakeboard as this 2016 models boasts high end features which makes it best suited for some of the most aggressive wakeboarding.
Featuring a lightweight and durable construction, and thanks to features like angled fins, abrupt continuous rocker, and Hyperlite's Biolite 3 Core, the 2016 Kruz Bio is a true performance wakeboard.