Hyperlite 2016 Marek Wakeboard
$199.99
Pros
Lightweight, but durable
Extremely responsive
Easy to control
Quick release off the wake
Great transitional board from one trick into another
Cons
Not very fast
Boring graphics
No bindings included
Rough landings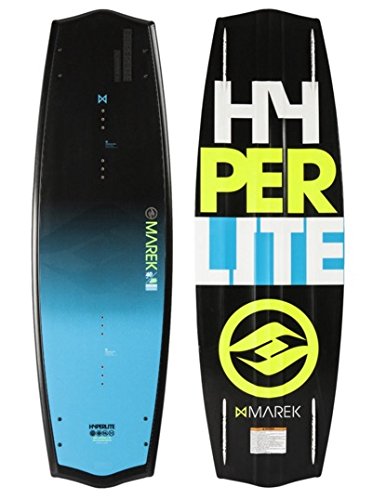 The Hyperlite Marek Wakeboard series is well established and has become a fan favorite with intermediates and experienced riders. The unique shape that helps to make up the Marek name tailors wakeboarding to those looking for an effortless and amazing ride. Going into the wake with a great deal of class and popping off the wake while responding immediately into the next one is what this Aaron inspired series is all about.
The Hyperlite 2016 Marek Wakeboard continuous right where the series left off, but reducing the volume by 15% gives riders more of an air ride feel. Lightweight and highly durable, the upgraded model was built to last while also integrating features which allows you to cut through the water gracefully.
Highly Responsive with 15% Less Volume
Thanks to the 9 degree angled fins, the Hyperlite 2016 Marek Wakeboard is extremely responsive. Instant turns and cuts through the water is effortless and virtually natural as it takes wakeboarding extremes to the next level. The responsive nature of the latest Marek is one of the biggest performance based improvements over the former models.
Tone abrupt continuous rocker adds the missing element which gives you a complete performance wakeboard which is highly recommended for intermediates and advanced riders. The 2016 model Marek lives up to the quick feel that the series has become well-known which comes in with 15% less volume of previous Marek wakeboards.
Specifications and Features
145cm length
Biolite 3 Core
Abrupt Continuous Rocker
Two Stage Channel
9 Degree Angled Fins
Molded Landing Feature
Durable Monocoque Construction
Layered Glass
M6 Inserts
15% less volume than the previous model
Check Out Our Review of the Best Hyperlite Wakeboards this Year
Pros
Lightweight, but durable
Extremely responsive
Easy to control
Quick release off the wake
Great transitional board from one trick into another
Cons
Not very fast
Boring graphics
No bindings included
Rough landings
Verdict
The Hyperlite 2016 Marek Wakeboard is yet another board from the high performance manufacturer which reintroduces some very familiar features while upgrading many more. Reducing the volume is a welcomed addition which gives riders an unforgiving wakeboarding experience. Recommended for beginners and intermediates, but advanced riders will find that this board underperforms.
Considering the price the 2016 Marek is a good purchase, but if you're planning on making wakeboarding a lifelong sport, you may want to consider an alternate purchase.
Price Disclaimer