Hyperlite 2016 Prizm Women's Wakeboard
$304.49
Pros
Very responsive wakeboard with great handling and control
Minimalistic color and design qualities
Very durable and lightweight
Great learning board
Can handle aggressive wakeboarding
Cons
No bindings included
Only comes in 134cm length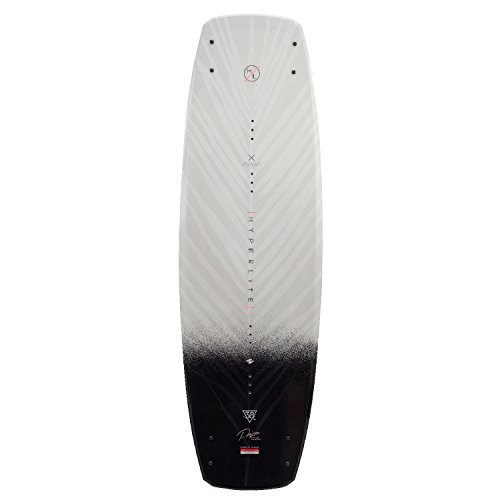 Hyperlite does it again introducing a truly unique wakebaord that meets the standards of professionals and newbie wakeboarders alike. We've seen a huge interest peak over the past couple of years to the point that wakeboarding has become one of the most recognized water sports. Much of this is due to the amazing appeal of the boards that has brought in a wide array of riders both male and female.
It doesn't matter if you have years of experience or are looking to get on a board for the first time as the Hyperlite 2016 Prizm Women's Wakeboard appeals to both beginners and experienced women riders alike. Carefully crafted to meet the needs and desires of female riders helping give them a competitive edge. The 2016 model Prizm wakeboard has made huge strides over the previous model which has made it a top seller of the year.
Minimalistic, but Bold Look
Some riders like their wakeboard flashy with ultra-bright colors which has them standing out on the water, and others like more of a minimalistic approach. The Hyperlite 2016 Prizm Women's Wakeboard brings out the best of both worlds as one side offers a modern black and white design with minimal design qualities while the other side features a bright, and more contemporary look.
The color pattern and design qualities have helped the 2016 model Prizm become a top rated wakeboard with women riders. Aside from appearance, the performance package is everything but minimal as riders of all skill levels will become better, and much more responsive.
Adaptable for Professionals, but Fit for Newbies
The versatility of the Hyperlite 2016 Prizm Women's Wakeboard is what helps it stands out as it is more than adaptable for professionals, but fit for newbies. Learning a sport that some say is very difficult takes into context of the board itself as this truly makes all the difference. Beginners will find that the 2016 Prizm is one of the easiest to ride, but more experienced riders will find that it's rugged enough to handle some of the most aggressive riding.
The durability and strength of this board can tolerate some of the hardest riders. If you're someone who abuses, or use their board very hard, you will have the peace of mind thanks to the very durable Monocoque Construction. Coupled with layered glass and performance features such as the 3-stage rocker, variable edge design, and mellow center landing spine which all equals out to one hell of a wakeboard.
Specifications and Features
12 pounds – shipping weight
134cm length
Satin Flex
Subtle 3-Stage Rocker
Variable Edge Design
Mellow Center Landing Spine
Minimum Swing Weight Profile
Durable Monocoque Construction
Layered Glass
M6 inserts
Similar to the same shape as the Murray 20th Anniversary Pro Model
Check Out Our Review of the Best Hyperlite Wakeboards this Year
Pros
Very responsive wakeboard with great handling and control
Minimalistic color and design qualities
Very durable and lightweight
Great learning board
Can handle aggressive wakeboarding
Bargain price for a true women's performance board
Cons
No bindings included
Only comes in 134cm length
Verdict
The verdict on this women's wakeboard from Hyperlite is a resounding yes. Whether you're a beginner looking to learn the basics of wakeboarding or an advanced level rider looking for an upgrade then the time is now. The 2016 Hyperlite Prizm has all the bells and whistles which ultimately makes riders better, and comes with a very affordable price tag attached.