Hyperlite 2016 State Wakeboard
$299.94
Pros
Fits most youth rider shoe sizes
Comfortable and durable Remix bindings
Cool graphics and color pattern
Soft landings
Durable
Cons
Not a very versatile wakeboard
Does not fit most adult male shoe sizes
Cheaper, more versatile wakeboards out there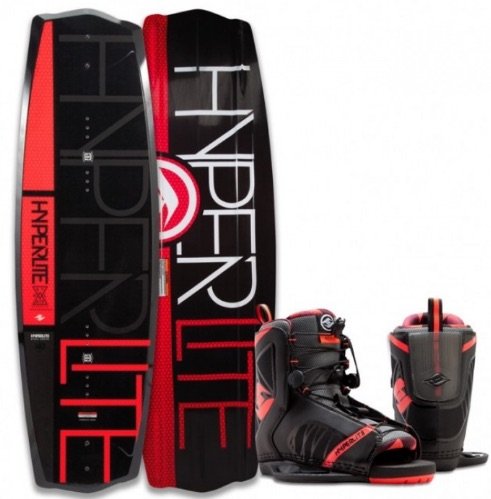 Hyperlite wakeboards have become known as some of the flashiest boards on the market and their performance packages have appealed to riders with all different skill levels. The Hyperlite State series has easily become one of their best-sellers internationally, and we fully expect this series to only become even more popular. When looking at the bold, modern look, the State series offers the complete package to all riders.
The Hyperlite 2016 State Wakeboard picks up right where the 2015 model left off, but brings with it some subtle improvements. Improving on a near perfect board is nearly impossible, but when your intent on enhancing watersport technology it takes a true manufacturer to do so. The 2016 State comes complete with a nice set of matching bindings which helps advance the riding skills of all riders.
Best Suited for Youth Riders, but Can Accommodate Smaller Adults
The Hyperlite 2016 State Wakeboard has a recommended weight range from 80 – 155 pounds and the bindings will fit most youth and adult shoe sizes from 4 – 8. This means large adults wont' find this board useful as it comes in at 130cm in length which is recommended for children over adults.
The color pattern and graphics offers bold black and red colors with a very familiar and loved graphics that riders have come to appreciate it the State series. This 2016 model wakeboard comes complete with a comfortable set of Remix bindings, but male adults will find their too small.
Specifications and Features
130CM length
Accommodates youth riders from 80-145 pounds
Remix Bindings included which fit men's shoe sized 4 – 8
Recommended for riders of all skill levels, but best suited for beginners and intermediates
Check Out Our Review of the Best Hyperlite Wakeboards this Year
Pros
Fits most youth rider shoe sizes
Comfortable and durable Remix bindings
Cool graphics and color pattern
Soft landings
Durable
Cons
Not a very versatile wakeboard
Does not fit most adult male shoe sizes
Cheaper, more versatile wakeboards out there
Verdict
The Hyperlite 2016 State Wakeboard is a good wakeboard, but its lack of versatility and the price makes it far from great. The graphics and Remix bindings makes it a great buy for children and smaller adult riders, but not for most adults. Beginners and experienced riders alike will find that it's very easy to ride which ultimately makes them better, but there are definitely more versatile wakeboards out there that are more affordable.
Price Disclaimer