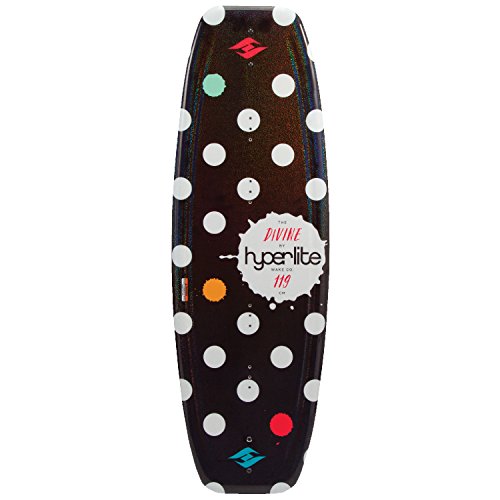 Most of you would be surprised because of the fact that it's not even the 2017 but companies have launched their 2017 model wakeboards. This is because most companies take September as their year and thus, launch their new wakeboards in September.
The 2017 series for most wakeboards is already out there and people have been looking for the reviews. Well, here we are today with one of the latest wakeboards for little girls. The Hyperlite 2017 Divine Jr. Kid's Wakeboard is the perfect riding machine.
Layered Glass Construction
It is a true fact that lighter is the wakeboard, the easier is it to control. Hyperlite 2017 Divine Jr. Kid's Wakeboard has one of the finest constructions. It is constructed with Layered Glass on the top. This not only makes it quite durable and resistant against damages but also makes it lightweight. Moreover, there are 4 molded-in fins so that you can ride as you want to.
Landings are soft and easy. Point short; the Hyperlite 2017 Divine Jr. Kid's Wakeboard has all the ease which you would want your girl to have.
Continuous Rocker is there
The Hyperlite 2017 Divine Jr. Kid's Wakeboard has a continuous rocker. This is a 3-stage rocker. Once you are off the wake, you get a nice pop and a good height from the wakeboard. For beginners or young girls, this feature is quite important. They need to learn how to control a wakeboard from a low and basic pop.
No boosted pop is there because it is basically designed for learners and only the expert can handle an explosive pop off the wake. It is basically designed for boat riding style and it is good for beginners to learn on a boat rather than cable park.
Specs and Features
Size: 119 cm
Colour: Mix
Fin Setup: 4-Molded in fins
Layered Glass
Forgiving 6 degrees edge
Rocker Type: Continuous Rocker
Riding Style: Boat
M6 Insert
Monocoque Construction
V Bottom tunnel
Check Out Our Review of the Best Hyperlite Wakeboards this Year
Pros
Nice pop
Soft landings
Easy to learn
Made for beginners
Durable and long lasting
Can resist damages
Lightweight
Cons
Only fitting for beginners
Verdict
Hyperlite's 2017 model Divine wakeboard is going to be one of the best learners for your girl. It is one of the few wakeboards which have their latest designs in the market. Many girls might find it too easy to learn this wakeboard. It would give them a good experience and would provide a good initial phase in the long road of riding wakeboards.
If you want your girl to have a good base in wakeboarding, choose something unique, choose something wise and choose something latest. That's right, choose the Hyperlite 2017 Divine Jr. Kid's Wakeboard.