Wakeboards can offer you a whole new experience of water skiing. If you're a fan of water sports, then you might now the importance of a sturdy board. Are you seeking for a light-in-profile yet heavy-in-performance wakeboard? Do you wish to purchase a versatile board without upsetting your budget? If yes, then here it is.
The Hyperlite 2017 Kruz Bio Wakeboard is an ideal equipment to consider. It has a sturdy build, user-friendly features, light-weight and all this in a reasonable price. Its board is well-designed and offers maximum convenience to the user. Want to know more interesting things about this product? Find them below.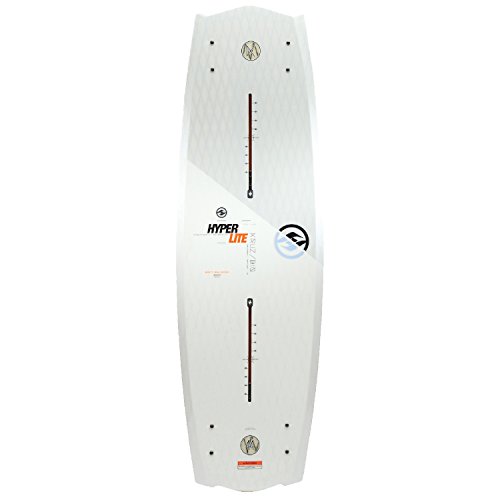 Remarkable Addition to the Hyperlite Family
Hyperlite has been serving its valued customers since many years. Similarly, this model is highly appreciated widely for its durability and light weight. CarboNetX is the most innovative and noticeable feature of this board, which keeps it super light for easy spinning. Moreover, diagonal woven carbon fibers are also there to help the board in releasing and storing energy consistently, throughout the water spree.
The crisscrossed fibers on the Hyperlite 2017 Kruz Bio Wakeboard perform like tension and springs cables for delivering a supportive and responsive feel. This feature is also responsible for its increased durability and long life. Besides its remarkable specs, this board has an attractive and eye-catching design.
Durable Companion for Wakeboarding
Apart from being lightweight and compact, the base of this board is a great blend of durable materials. Thus, making it a worthy investment that can last you for a longer span. Its base also ensures the safety of the user by preventing any kind of inconvenience by rotation and spinning.
The 2017 Kruz Bio Wakeboard model comes incorporated with a continuous rocker which is exaggerated at the tail and tip to create an explosive and fast ride rather slow and draggy. Moreover, it is suitable for intermediate to expert-level users. This wakeboard entails remarkable features that are usually present in higher-end boards. However, its low price is certainly a prominent aspect that makes it stand out.
Specs and Features
Department: Men
Weight: 12 pounds
Manufacturer: Hyperlite
Ability: advance to expert
Fins: 4
Warranty description: 1-year warranty
Core material: Carbon fiber
Pros
Lightweight and compact
Durable and long-lasting
Attractive and eye-catching design
Available with 1-year warranty
Available in different sizes
Features CarboNetX for an increased durability
Cons
Not suitable for beginners
Verdict
Only water-sports lovers can understand the significance of an efficient wakeboard. Are you one of them? Or do you want to be one of them? Well, in both the cases, the Hyperlite 2017 Kruz Bio Wakeboard can serve you the best. It is highly recommended for water sports because of its innovative design that won't let the user slip away from the board, even at a high-speed.
Although, beginners may find it difficult to use initially, but it's a real treat for professionals who wish to own a board in a low-cost. From quality to efficiency and affordability to durability, this model promises to satisfy customers by offering smooth and optimum performance. Don't believe it? Try it yourself.