Hyperlite 2017 Vagabond Wakeboard
$399.99
Pros
Ultra-Lightweight
Latest technology
Innovative construction techniques
Strong enough to handle extreme wakebaording
Brings soft landings and smooth rides
Cons
Not recommended for riders above 230 pounds
Only a few left in stock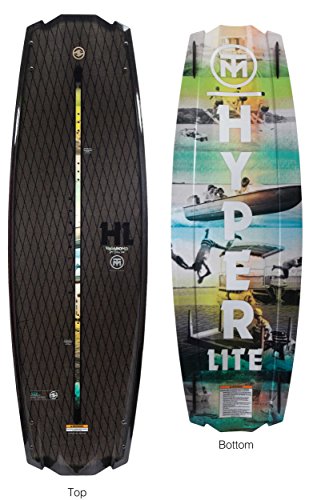 Quite simple is the introduction to wakeboards which can be defined as some fun sports as well. Wakeboarding is a trend since a long time and in many countries worldwide it is considered as a proper sport as well. Companies such as Ronix, Hyperlite, Byerly, and CWB etc create some amazing wakeboards which are used worldwide.
This year, all the companies have launched some new and latest design wakeboards as well. Let's just discuss the Hyperlite Vagabond Wakeboard 2017 which is already being ordered by customers worldwide.
Innovative Construction
One of the most amazing and latest features introduced in the Vagabond Wakeboard 2017 is the CarbonetX feature. Diagonal woven carbon fibers are present which ultimately assist the board in storing the energy and thereon releasing it constantly throughout the ride. This gives an amazing pop off the wake and one can feel that this wakeboard is taking you to the moon.
There are crisscrossed fibers which act like springs. These help with durability and assist the board in lasting for long. The Hyperlite Vagabond Wakeboard 2017 becomes a responsive wakeboard.
Ultra-Lightweight
There are several features which make this wakeboard a light one and ultimately make it easy to control as well. First, there is the Biolite 3 core. Biolite 3 core type is considered as gold type in the industry and makes the wakeboard ultra-lightweight and durable.
With Monocoque construction, there is a top glass and a bottom glass which means there is double protection for this 2017 Hyperlite wakeboard. With a layered glass technology, Hyperlite Vagabond Wakeboard 2017's deck will have the same pop off the double up year after year
Specs and Features
Size: Two sizes of 138cm and 142cm
Colour: Mix
Model year: 2017
M6 inserts
Core type: Biolite 3 core
Technology: CarbonetX
Designed by: Greg nelson
Construction type: Monocoque construction
Rocker type: 3-stage continuous rocker
Skill level required: Intermediate and advanced both riders can ride it
Check Out Our Review of the Best Hyperlite Wakeboards this Year
Pros
Ultra-Lightweight
Latest technology
Innovative construction techniques
Strong enough to resist damages
Responsive
Speedy
Brings soft landings and smooth rides
Cons
Not recommended for riders above 230 pounds
Only a few left in stock
Verdict
The Vagabond Wakeboard 2017 is available and has some cool features as mentioned above. With the most innovative construction features and amazing quality of the wakeboard, it is already being ordered by several people. It is made available in two sizes so both intermediate and advanced riders can ride it properly. The verdict for the Hyperlite Vagabond Wakeboard 2017 is a positive one and would provide you a delightful experience.