Hyperlite Process Men's Wakeboard
$271.95
Pros
Dual Stage Channel
Not very expensive
A fine board with layered glass construction
Molded Landing feature
Fins are 9-degree angled
Cons
Has only a few basic features, thus, best suitable for beginners
Not the best wakeboard for jumps and other tricks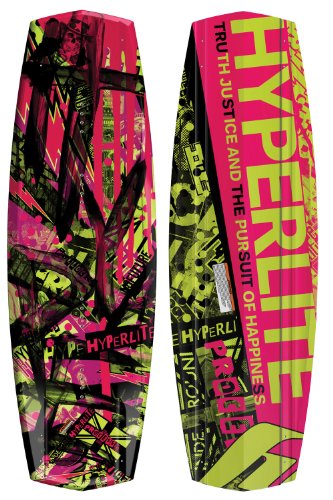 Wakeboarding is one industry in which completion is constantly increasing. More and more firms are entering the market as it is profitable and the trend of wakeboarding is increasing globally. The Increase in number of firms brings a wide choice for riders. Many firms such as CWB, Hyperlite, and others are competing on the basis of different types of wakeboards. Let's analyze Hyperlite Process Men's Wakeboard and see what it has to offer.
Finest Layered Glass Construction
Layered Glass Construction is a feature which not only makes the wakeboard attractive but also makes it quite lighter. The Hyperlite Process Men's Wakeboard is a multi-finned board. Hyperlite has constantly been making some amazing wakeboards from a couple of years and the process is a good example of that. It is a standout model for its overall responsiveness and performance.
A basic Wakeboard
The Process is a Wakeboard which comes with a few basic features and is considered a nice choice for beginners. It carries a good speed which can help you in learning wakeboarding. Moreover, off the launch, there is a nice pop which also gives this wakeboard a plus point.
It is mobile and responsive as well. As beginners cannot handle too much weight of a wakeboard, this wakeboard has quite a low weight so that you can control and hold it easily.
Specs and Features
Size: 141cm
Shaped by Aaron
ASIN:B0047XHKAY
Rocker Type: Abrupt Continuous Rocker
Rocker Size: 2.7 inches
Gender: Men
Core Type: Biolite 3 core
Shipping weight: 15 pounds
Cable Park Specific features
Construction material: Layered glass
Fin configuration: 4 fins of 8"
Length of Wing: 141cm
Colour: Pink/Yellow
Width of the Tip: 11.7 inches
Middle Width: 17 inches
Check Out Our Review of the Best Hyperlite Wakeboards this Year
Pros
Dual Stage Channel
Not very expensive
A fine board with layered glass construction
Molded Landing feature
Fins are 9-degree angled
Cons
Has only a few basic features, thus, best suitable for beginners
Verdict
Well, we would say that if you are really interested in buying this wakeboard, please reconsider your choice. This wakeboard doesn't have any major technical flaws, but the fact that it has only a few features for beginners. Those who are willing to begin learning wakeboarding and want to learn a lot of features, for them it is a poor choice. It has a good pop but not an explosive one. Plus, the landings might not be as soft.
Consider some CWB wakeboards which offer some extra features such as soft landings, v-tech in tip and tail and much more in the same price. We aren't saying that Hyperlite Process is a bad choice but asks yourself what would you prefer; A dozen apples for $10 or a whole Fruit basket for $10?