Hyperlite Union Men's Wakeboard
$317.95
Pros
Extremely durable
Unique graphics inspired by Team Aaron
Lightweight
Great pop off the wake
Can handle aggressive wakeboarding
Cons
Not recommended for beginners
Difficult learning curve
While unique, appearance not for everyone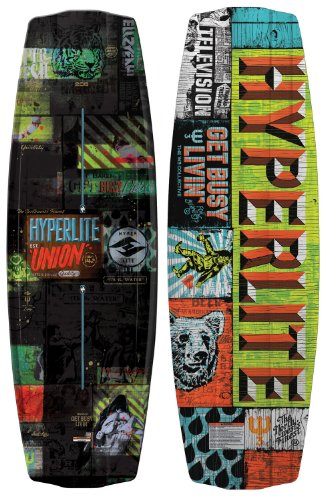 Hyperlite has been working in conjunction with all of the top professional wakeboard riders when construction some of their best. These professionally inspired boards have been at the forefront of the entire market and some of the most revered boards out there. Offering unique styling along with all of the top performance features for a wide array of riders which have literally been in a class of their own.
The Hyperlite Union Men's Wakeboard sports improvements we've seen in the Union series after years of redevelopment. Built with advanced construction and some of the highest rated water sport features we've seen to date, and shaped by Aaron himself giving this Union wakeboard that unique look.
Uniquely Inspired by Team Aaron
The Hyperlite Union Men's Wakeboard is years in the making, and the development process was well worth the wait. Inspired by Team Aaron, this board offers amazing style graphics which are somewhat of an acquired taste, but the performance is like love at first sight. Built with the best in water sport technology in mind which makes it highly recommended for some of the most aggressive riders out there.
The unique appearance is one thing, but what separates this Union wakeboard from all the rest is what's underneath the unique exterior. Constructed with a Sintered Enduro base, Tri-Ax layered glass, and Strata Mounting System makes this board extremely durable, and able to withstand some of the hardest riding styles.
Superior Performance, Control and Stability
The beveled edge allows riders to cut through the water and makes turning more of a natural motion. The effort that goes into controlling this Union Wakeboard puts the rider in control at all times which makes it easier to concentrate and land the perfect landing each and every time. For those looking for performance before and after the wake will get it with this board which comes complete with a continuous rocker.
Adjustments on the fly are simple thanks to the Strata Mounting System. Micro adjustments makes the ride much more stable which is something typically overlooked when looking at other performance wakeboards.
Specifications and Features
15 pounds
138cm length
Shaped by Aaron Team Inspired Design
Strata Mounting System
Tri-Ax Layered Glass
Fully Machined Crossover Flex Core
360-degree ABS sidewall construction
Sintered Enduro Base
Shallow Tip to Tail Channels
3-degree Variable Beveled Edge
Continuous rocker
Recommended for intermediates and professional riders
Check Out Our Review of the Best Hyperlite Wakeboards this Year
Pros
Extremely durable
Unique graphics inspired by Team Aaron
Lightweight
Great pop off the wake
Can handle aggressive wakeboarding
Superior cuts and turning
Cons
Not recommended for beginners
Difficult learning curve
While unique, appearance not for everyone
Verdict
The Hyperlite Union Men's Wakeboard is definitely not for everyone, but it's definitely for those looking for one of the best performing boards out there. The difficult learning curve means it's not recommended for beginners, but intermediates and especially professional riders can take wakeboarding to the next level with this high-end performance board.
Price Disclaimer