Hyperlite Venice Blem Women's Wakeboard
$235.95
Pros
Durable
Great rider control
Great wakeboard for beginners
Easy learning curve
Good performance board for intermediates
Cons
Overpriced
Unique visuals won't appeal to all women riders
Underperforms for professional riders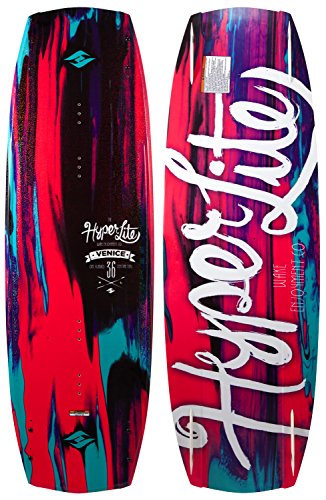 Women specific wakeboards are difficult to come by as they are created with the specific needs in mind. There are only a couple of manufacturers out there who have perfect women wakeboards with Hyperlite being one of the industry leaders. Combining style and wakeboarding with a twist is what the Venice Blem series is all about which leads us into our next review.
The Hyperlite Venice Blem Women's Wakeboard may not be the best seller out there, but that doesn't mean it shouldn't be. Coming in two different sizes which include 131 and 136cm which offers a flavor for two distinct riding styles. Whether you're a beginner or intermediate women rider, the Venice Blem wakeboard is definitely worth considering.
Nelson and Murray Create a Performance Based Wakeboard
Two of the biggest names in the industry got together to create a performance based wakeboard. The Hyperlite Venice Blem women's wakeboard was crafted with precision in mind offering the best balance of control and performance into one unique board. The riding style of women is subtly different and this board matches the needs and desires of both beginner and women intermediates.
The best of performance is seen in the continuous rocker, M6 inserts, wider profile, variable edge design, and single fin positioning. The Venice Blem offers a great deal of control as the wide profile is a great foundation while standing over the continuous rocker which makes cutting through the water a breeze. Soft landings and an extra smooth ride makes it easy and fun while giving you great pop off the wake.
Visually Appealing
The Venice Blem doesn't stop with performance as the visuals will definitely help you stand out in a crowd. With a unique design pattern along with red, white, blue and black the appearance of the board itself offers a great deal of pop. For those looking to get pop off the wake while sporting some great visuals will get the best of both worlds.
Specifications and Features
15 pounds – shipping weight
Available in 131 and 136cm length
Wider Profile
Single Fin Positioning
Variable Edge Design
Continuous Rocker
Durable Monocoque Construction
Layered Glass
M6 Inserts
Designed by Nelson and Murray Co-Lab
Check Out Our Review of the Best Hyperlite Wakeboards this Year
Pros
Durable
Lightweight
Great wakeboard for beginners
Easy learning curve
Good performance board for intermediates
Soft landings
Great rider control
Cons
Overpriced
Unique visuals won't appeal to all women riders
Underperforms for professional riders
Verdict
The verdict on the Hyperlite Venice Blem Women's Wakeboard is in, and if you're a women rider looking for a performance board that is easy to learn then this is a great option. Professional riders will feel like the board underperforms, but the balance and control is apt to appeal to both beginners and intermediate skilled riders.
Coming in around $250 most riders would say this board is overpriced as there are definitely better performing boards which come in slightly less.
Price Disclaimer