Jobe Austin Series Wakeboard
Unavailable
Pros
Super Strong due to bullet reinforcement
Fast and hybrid rocker
Landing stability assistance
Speed, Pop, and Control all at the same time
Comes in the top 100 wakeboards at Amazon
Cons
Currently unavailable at the stock (22-September-2016)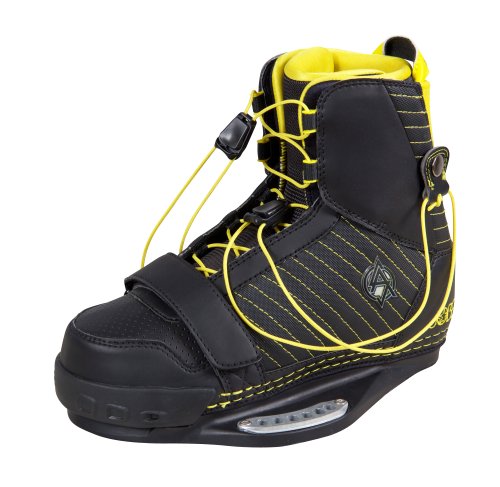 Jobe is a powerful brand name in the industry of Wakeboards. Since the 21st century's start, they have developed and created many amazing wakeboards which target all sorts of riders. Be it men or women, professionals or beginners, Jobe has the wakeboard for you.
Even many riders have collaborated with Jobe to create some amazing wakeboards. Let's see what Jobe has to offer you in the Jobe Austin Series 137 Wakeboard.
Speed, Pop and Control
As suggested by the name, the Jobe Austin Series Wakeboard has been designed and created by the World-class Professional Wakeboarder Austin Hair. He has been competing on the Pro Wakeboard Tour since 2005 and has been a winner at many events.
One of the most important features which he added to the Jobe Austin Series was basically a combination of speed, pop, and control all three at the same time. With a fast Hybrid rocker, it gives an amazing speed and pop whereas the shredded rails can provide a good grip to the rider.
Powerful and Super Strong Board
One of the most powerful and super strong boards is what the Jobe Austin Series Wakeboard is. This is because it has a unique flex lay-up which retains both the snap and the pop over time. There are 4 reinforced molded fins and the board has a square tip which allows a steady press on any type of rail.
The bullet reinforcement makes the wakeboard a super strong one and also gives a board's grip to the rider.
Check Out Our Review on the Best Jobe Wakeboards this Year
Specs and Features
Size: 137cm
Developed by Austin Hair
Model number: 270012009137
Fin configuration: Four reinforced molded fins
ASIN: B009LH3O8I
Shipping weight: 13.25 pounds
Wakeboard Dimensions: 3.3 x 20.75 x 59.25 inches
Colour: Mixed
Skill level required: Intermediate – Advanced
Pros
Super Strong due to bullet reinforcement
Fast and hybrid rocker
Landing stability assistance
Speed, Pop, and Control all at the same time
Comes in the top 100 wakeboards at Amazon
Cons
Currently unavailable at the stock (22-September-2016)
Verdict
Developed by one of the famous US pro-rider, the Jobe Austin Series Wakeboard is a great choice for users. It has some great features such as a hybrid rocker and an extra exclusive pop which gives the rider a great speed over the wakeboard. Moreover, the bullet reinforcement and other cool features provide a good grip to the rider.
Overall, the Jobe Austin Series Wakeboard provides a great experience to the riders thus we recommend professional users to try this wakeboard.
Price Disclaimer