Jobe Revolt Flex Series Wakeboard
$189.05
Pros
Well made and well designed
Provides stiffness and flexibility at the same time
Soft and smooth landings because of greater flex
Can resist Pro Level abuse due to wooden core
Cons
Various other wakeboards are available which offer more features in this price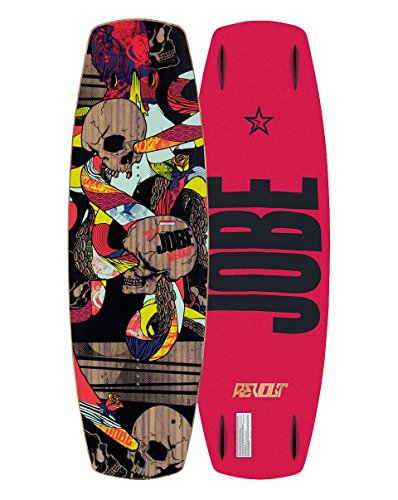 The word flex in wakeboards means that the board is quite flexible and is beneficial for riders in two ways. Firstly, a board with a greater flex can be used to pull off some great stunts and secondly, a board with a greater flex helps in keeping the landings soft and smooth.
Jobe has a number of wakeboards designed and there is a special Flex Series of Wakeboards as well. In this way, Jobe has created various flex boards and the Revolt has also been a part of them. Let's analyze in detail what the Jobe Revolt Flex Series Wakeboard has for you.
Wooden core makes it Tough!
Before we explain this point, keep in mind that here, tough does not mean that your riding experience becomes a tough and a hard one. Here tough means that it becomes strong enough to resist all sorts of damages and can be used in any style because it won't have any sort of harm.
The Jobe Revolt Flex Series Wakeboard is made with a 100% wooden core. The core makes it hard and stiff and many of you might be thinking that this could make the landings hard, but don't worry, the softness is also present due to the greater flex at tip and tail.
Simple and Smooth
With not a lot of features in it, this wakeboard becomes a simple and smooth one for riders. It doesn't have a lot of features and that's what many riders might like. Especially those who want to keep their riding experience simple and smooth. Still, there is a 3-stage rocker which helps in giving a great pop off the wake.
Check Out Our Review on the Best Jobe Vanity Wakeboards this Year
Specs and Features
Size: 132cm
Model number: 272515007132
Dimensions: 2.8 x 18.7 x 57 inches
Shipment Weight: 11.4 pounds
Colour: Mixed (Mostly Pink)
ASIN:B010Q7158C
Rocker Type: 3-stage rocker
Construction: Full Wooden natural core
Skill Level Required: For intermediate to advanced riders
Pros
Well made and well designed
Provides stiffness and flexibility at the same time
Soft and smooth landings because of greater flex
Can resist Pro Level abuse due to wooden core
Cons
Various other wakeboards are available which offer more features in this price
Verdict
The verdict goes out only for those riders who want to keep their riding experience simple and smooth. This wakeboard doesn't offer a lot of features whereas various other boards offer a lot of features at the same price. For those who are looking forward to learning and improve further, they should look for other options whereas riders who want to keep their riding experience simple can go forward and buy this wakeboard.
Even though the fact that it is quite cheaper might make you buy it but again, pay 20 dollars more and get a lot in it. Rest is on you. Make sure you consider all pros, cons, and features before choosing to buy any wakeboard.
Price Disclaimer