Liquid Force 2017 Dose Shane Wakeboard
$529.99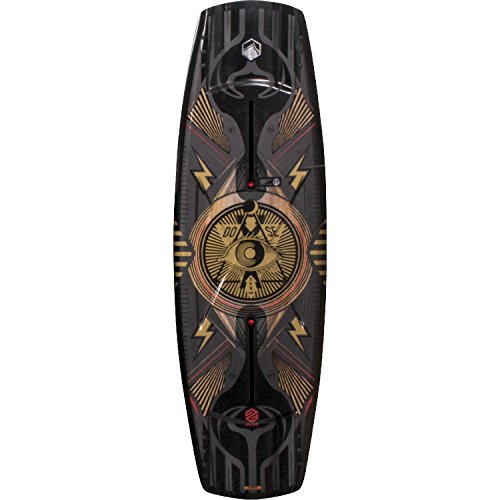 Designed especially for professionals, the Liquid Force 2017 Dose Shane wakeboard performs exceptionally well. As opposed to the typical boards, it has comparatively more flex and especially in the 2 tip area. This flex offers a more adventurous feel and a true water riding experience to a professional wakeboarder.
The 2017 Dose Shane wakeboard is going to be the next most preferable wakeboard for all the professionals, because of its dazzling features and specifications. The 2017 model is already being heralded as one of the top 2017 model wakeboards being introduced into the market which is saying a lot considering this is by far the best model year for wakeboards.
Wooden core
Liquid force's certified and strong wood core provides a more spring loaded flex along with rebound. The Liquid Force 2017 Dose Shane Wakeboard has been designed by Shane who has been riding with Liquid Force over a period of more than 20 years. He has been riding all types of wakeboards and has handled the toughest of conditions as well.
To achieve a long goal, he wanted to design a wakeboard which can be handled in any condition.  He has used Liquid Rail Flex Zones to give the board a much more sensitive feel from the rails. There is a clean bottom without any channels and has only a single concave off the tips which provides an amazing speed  on the corner or the wakes.
Quad fins just make your ride!
Shane believes that when you are riding behind the boat, there must be 4 fins which provide more stability and control. The FlexTrack technology is also a part of major wakeboards of 2017. This provides the ultimate control and an amazing flex as well. Just don't worry because the Liquid Force 2017 Dose Shane Wakeboard is going to perform exceptionally well behind the boat.
Check Out This Review for the Best Liquid Force Wakeboards of the Year
Specifications and Features
LF Exclusive Flex Track
• Full Wood Profiled Core
• "Vector Net"
• Pro Glass Layup
• LF Slider Quad Fin Setup
• LF Exclusive GRIND Base
• LF Exclusive Liquid Rail
• Concaved Beveled Rail
• Blunted Square Tail
• Single Concave through Center
• Triple Concave exiting tail
• Flex rating of 7
• Performance of 6-10
Size: 139 cm, 145 cm
Color: Black
Pros
Exclusively designed for professionals
Smooth water riding experience
Provides more stability and control
Provides ultimate speed
Can be handled in any condition
Cons
Verdict
The verdict for 2017 Dose Shane Wakeboard by Liquid Force goes in the favor of those who :
Can afford such an expensive wakeboard
Have reached the professional level in wakeboarding
The Liquid Force 2017 Dose Shane Wakeboard is an amazing wakeboard. As designed by a proper athlete, we can expect the Liquid Force 2017 Dose Shane Wakeboard to be the one beyond our wildest possible expectations. Just in case you ever feel that you have some spare hundred dollars, do try them on Liquid Force 2017 Dose Shane Wakeboard and you won't regret your purchase.