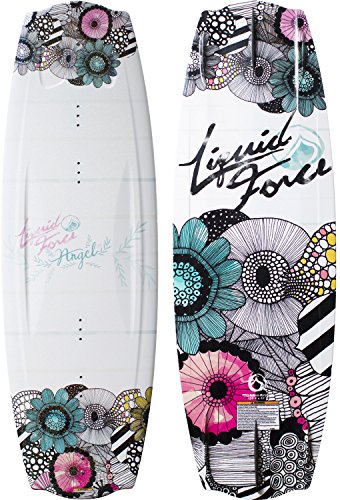 Liquid Force is one brand which is known for its high-quality wakeboards. It designs wakeboards for everyone be it men, women, or kids. For this reason, Liquid Force has a good brand image in front of the consumer market. Liquid Force has women's wakeboards designed in such a way like no one else.
Its wakeboards present some cool features which are barely found in any other wakeboard. Liquid Force Angel Women's Wakeboard is another one in the row. It is designed for women who are on the intermediate or advanced level of riding. Let's see what features are offered in Liquid Force Angel Women's Wakeboard.
Ultra Fluid for Easy pop
A nice pop off the wake is extremely necessary for every wakeboard. If this isn't proper, the wakeboard would not pick up heights and there might not be smooth rides. The Angel is a highly responsive wakeboard. It has a continuous 3-stage rocker which is super smooth and ultra fluid. Ultimately, this results in an easy and boosted pop. On the other hand, there are flawless landings as well which makes this wakeboard a better choice for women.
Easier edge-to-edge transitions
Quite amazing is the fact that Liquid Force Angel Women's Wakeboard has a modern Bat Tail Fuller. This helps in creating more lift off the tail of the board. Also, this helps in better edge to edge transitions. Furthermore, molded-in Warped Long-based Side fins are also given in this wakeboard to make riding easier for women. Liquid Force Angel Women's Wakeboard is truly going to be an angel for your girl.
Specs and Features
Size: 138cm
Shipment Weight: 55 pounds
Skill Level Required: Intermediate
Colour: White
Style Type: Boat style
Rail Type: Variable Edge Rail
Fin configuration: Molded-in Warped Long Based Side Fins
Rocker Type: Continuous 3-stage rocker
ASIN:B016BYBZC0
Pros
Comes with a center fin
Smooth and predictable
Ultra fluid pop
Smooth and soft landings
Modern Bat Tail
Cheap
DISC Hull through the Center (Double Inside Single Concave)
Better transitions
Cons
Women learning wakeboarding and those in the beginner phase might not be able to ride this properly
Bit heavy
Verdict
The Liquid Force Angel Women's Wakeboard is designed for those women who are more into the intermediate level of riding and have a good sense of riding a wakeboard. It is a nice choice because it gives great pop and smooth landings at the same time.
You go up or you come back down for a landing, Liquid Force Angel Women's Wakeboard is going to assist you in every possible manner and would help to polish your wakeboarding skills. Soon, you might become an advanced wakeboard rider.
Price Disclaimer