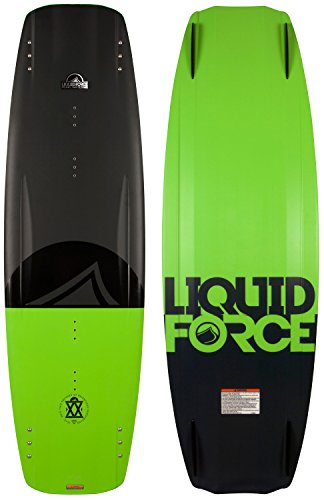 Liquid force is continuously developing and designing new wakeboards. However, even by developing new wakeboards and launching them into the market, there is low or no effect on the sales of the company. Possible reasons for that include the high price of wakeboards. Thus, companies also sell some defected pieces from the batch.
These wakeboards are same in the performance however; the only defect is that during the construction, there is some problem in designing or printing of the design on wakeboards. The Liquid Force Peak LTD Blem Men's Wakeboard is another example of such a wakeboard.
Three staged rocker with beveled rail
The wakeboard features the ultra-efficient three staged rocker. This allows for a straight pop up. This rocker has the most explosive profile when compared to other liquid force products. This wakeboard is cable specific and hence enables the rider to experience the liveliness of the water ride experience. It also has an optimum weight bearing capacity in accordance with different sizes.
This product is available in different sizes and colors. It is specifically designed for men. The colour combination used by Liquid Force in Liquid Force Peak LTD Blem Men's Wakeboard is Green and Black. Additionally, its elastomeric sidewalls provide for durability, resilience and strength. This also makes the wakeboard water resistant and long lasting.
Hybrid technology
It actually means that there are a number of technological features on this peak hybrid wakeboard. The edge channels and centrally concave shape allows one to ride without fins, while still maintaining a good control. Moreover, a wide range of different glass combinations have been used.
In addition to that, the Peak Hybrid wakeboard also features concaved beveled rails, none of which hangs up while water riding. However, they still provide extra grip whenever needed.
Check Out This Review for the Best Liquid Force Wakeboards of the Year
Specs and features
Ability Level: Intermediate-Advanced
Riding Style: Park
Rocker Type: Three-Stage
Triax Glass Layup
Weight: 15 pounds
Base Type: Slider/Grind Base
Fins: 4
Warranty: 1 Year
Sizes: 133 cm. 137 cm. 141 cm. 145 cm.
Shape: Centre concave with edge channels
Core: All wood CNC'd core
Base: LF exclusive grind base
Pros
Durable
Lightweight
Scratch resistant
Cheap
Easy-to-use
Smoother ride
Fast and joyful riding experience
Cons
Has some cosmetic defects
Verdict
Being exactly the same in performance as Liquid Force Peak Men's Wakeboard, the Liquid Force Peak LTD Blem Men's Wakeboard is a great choice for those who do not want to spend a lot on wakeboarding and for those who do not typically have a problem from the designing of the wakeboard. Riders who need a perfect piece must consider some other wakeboard.
All set and well, the Liquid Force Peak LTD Blem Men's Wakeboard performs at its best even with the cosmetic defects.
Price Disclaimer