Liquid Force Peak Wakeboard 132
$274.85
Pros
Hybrid technology for better water and park experience
Triax glass layup for torsional control
Concaved center and edge channels for softer landings
CNC milled wood with triple stringers for maximum flex and grip
Durability with the Liquid rail sidewall
Cons
A bit too stiff
Difference in size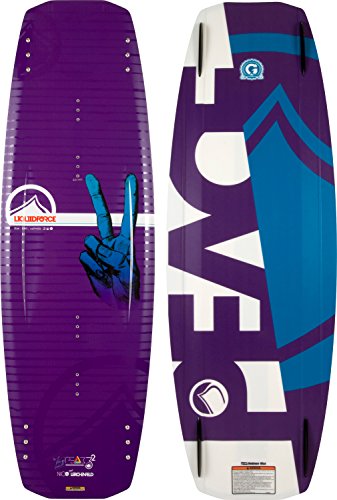 People fond of wakeboarding are always looking for something good and unique to arrive in the market so they can lay their hands on it. For those who do not know, wakeboarding is a water sport that requires a sturdy wakeboard to wake over the water surface. Combining snowboarding, water skiing and surfing, wakeboarding got the sport lovers like wow.
Different techniques are used by the pros at wakeboarding and they enjoy their moves on the water and find peace in it like nothing else. Being towed behind a motorboat, the water rider requires a strong rope and of course a wakeboard too. One thing that is essential for doing this is the need of a reliable wakeboard that makes the sport fun and easy. Liquid Force Peak Wakeboard can be the right choice for you.
Grind Your Way to the Top
A wakeboard is not necessarily to be used for water surfacing only as there are other sports for which it can be used too. The manufacturers, keeping in mind the various sports, have created this state-of-the-art wakeboard that does wonders for the users.
The unique technology used with this wakeboard is worthy enough to get you a smooth experience without any hassle. With a superb speed and the right alignment, the users will definitely make the most of it.
Whip All-Around!
Get ready for a great performance as you will see that the Liquid Force Peak Wakeboard 132 is accommodated with immense flex properties and the hybrid technology makes the usage and experience even better. The hull shape is maintained with the based material.
One can easily attach the wakeboard with either a motorboat or use it in parks to enjoy the thrill it provides. Liquid Force Peak Wakeboard 132 gives the best of both worlds.
Check Out This Review for the Best Liquid Force Wakeboards of the Year
Specs and Features
Size: 132cm
Gender: Men
Designed for: Water, Rails and etc
Color: Purple and White
Weight: 15 pounds
Rocker Type: Three-stage rocker
Base Type: LF Exclusive GRIND Base
Pros
Hybrid technology for better water and park experience
Triax glass layup for torsional control
Concaved center and edge channels for softer landings
CNC milled wood with triple stringers for maximum flex and grip
Durability with the Liquid rail sidewall
Cons
A bit too stiff
Difference in size
Verdict
The hybrid technology in the Peak Wakeboard 132 has got the complete package to satisfy your needs. The beveled concave edge and the edges near the mid-body give it the perfect shape for a catch-free and controlled ride. However, the Liquid Force Peak Wakeboard 132 will be a little stiffer and a lot sturdier this time around. Overall, the flexible performance and easy-grip make it easy to expand your riding experience with the advanced shape the wakeboard has got.