Liquid Force RDX Men's Wakeboard
$314.99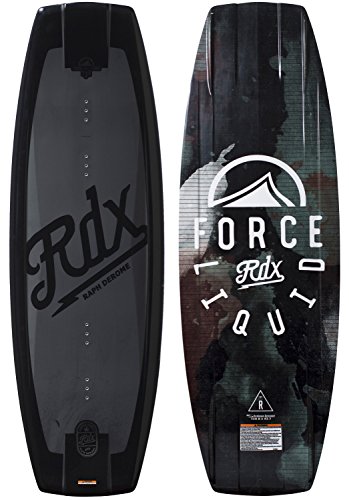 Liquid force RDX is a durable and a hard charging wakeboard to ride on any lake, with any boat. Basically, Liquid force is a high rated and recommended brand for wakeboards. Riding on a wakeboard is a leisurely actively, especially on such a high quality wakeboard. With this kind of riding equipment, one never gets bored off from water sports.
The new RDX for men has got real fun plus ultra-excellent performance. It is a newer version of the classic wakeboard, which assures its rider a joyful experience. This one has been designed to provide ultra-smooth ride style to dive in any kind of waters. It offers better than ever control on speed and acceleration because of its ultimate craftsmanship. Let us see the detailed specs of the newest RDX wakeboard.
The best 3-Stage Rocker
A beginner might not notice but a professional does really check on everything before making an actual purchase. Hence, Liquid force RDX comes with an innovative 3 staged rocker. These rocker curves provides for sharp edged riding styles. The center curve is somehow flat.
This one provides for modifications in speed and allows in rail control. Additionally, an exaggerated central angle on the tip provides for a bucking pop off wave. This feature makes this wakeboard not only desirable, nut one of the favorite for water riders. This feature has made this RDX wakeboard a better option than the predecessors.
The superb quad molded-in fins
The specially designed quad molded-in fins provide for ultimate water ride experience, and a smooth, loose ride. They are also deep enough, and help keep the board moving at the right pace. They also allow for a smooth control with predictable moves. It reduces the drag for a more comfortable water ride experience. Moreover, it's unique tip channels allows for point to point acceleration.
Specs and features
Size: 134 cm, 138cm, 142 cm
Low volume rails
Vee tip channel
Pro glass combo layup
Comes in green, blue and maroon colors
Pros
Bigger explosive pop
Lesser pressure on legs
Good weight bearing capacity
Durable material
Comes in 3 different sizes
Offers speed control
Easy to use
Innovative and colorful design
Cons
Inconsistent pop off
Expensive because of accompanying accessories
Verdict
With all these features and specs in mind, we see that RDX wakeboard excels in quality and performance. It generates a smooth and predictable water drive, which lets the sportsman choose the speed and exert the control. The features let the wakeboard move forward in a steady pace and allows for safer and softer landings.
The wakeboard has been recommended for the beginners as well, however, professional riders would love to ride on it with all new innovative specs.
Price Disclaimer