Liquid Force Slab Men's Wakeboard
$239.99
Pros
Lightweight but strong
Clean and fast shape
Subtle 3 stage rocker delivers quite a boost
Provides the perfect balance
Comes in different sizes and weight
Cons
Not suitable for people over 130 pounds
Outdated appearance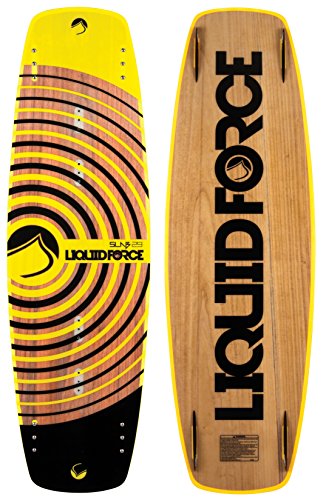 Wakeboarding is a surface water sport which involves riding a wakeboard over the surface of the body of water. Different athletes want different types of features in their wakeboards. For this reason, many companies have manufactured wakeboards with different amazing features.
Liquid Force has manufactured another wakeboard for men, called The Liquid Force 'Slab' Wakeboard. It is designed with many great features that make it more fun and easy to use. This board comes in 4 different sizes (129, 134, 139 and 144cm) and weighs about 130lbs-240lbs. It is a hybrid technology and has a full wood profiled core. The glass layering makes it light weighed. It also has a progressive 3-staged rocker.
Recreation or Sport- BOTH!
Liquid Force has designed the wakeboard with features that make it more fun to use and easy to learn. The overall simplicity of the board makes it easy to ride and very user-friendly. The riders feel extremely comfortable while using this wakeboard. The wooden profiled core provides maximum support which helps the rider to ride the wakeboard easily.
The Slab Wakeboard is also designed in a way that the rider can be extremely comfortable with the balance. As the board has a glass layering, it is light weighted and durable. This gives a perfect firm grip and is very easy to control. The carbon torsion zones make the wakeboard durable. It is damage resisting and lasts for a long time.
Fast and Strong
The Progressive 3-staged rocker produces great pop off the wake and also gives it a quick speed. Due to the rocker, riders are able to perform great tricks, making the sport more fun and lively. It provides maximum soft landings on either edge of the board. The rocker also provides a stable platform and catch free riding in the flats.
Specifications and Features
Size: 134cm
Color: black, brown and orange
Hybrid Technology
Full Wood Profiled Core
Clean Flat Planing Hull
Radiused Liquid Rail Sidewalls
Lightweight Biax Glass Layup
Progressive, Three Stage Rocker
LF Slider Quad Fin Setup
Extruded GRIND Base
LF Exclusive Liquid Rail
Pros
Lightweight but strong
Clean and fast shape
Subtle 3 stage rocker delivers quite a boost
Provides the perfect balance
Durable
Comes in different sizes and weight
Designed for beginners and pros
Cons
Not suitable for people over 130 pounds
Outdated appearance
Verdict
The Slab by Liquid Force has many features that make it a very amazing product. It is highly recommended for men, whether beginners or professionals, provided that they should weigh less than 120 pounds to provide durability and constant smooth functioning.
It is suitable for all types of wakeboard events due to its fast speed and a firm balance which makes the rider very comfortable with it. Due to the light weight and the 3-staged rocker of the Slab, the riders can also perform many incredible tricks, especially that require heights.