Liquid Force Watson Hybrid Men's Wakeboard
$449.95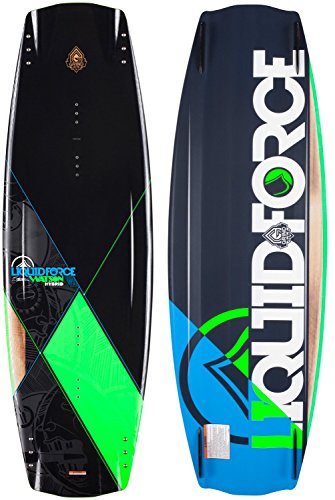 Wakeboarding is a sport which is both fun and a proper sport at the same time. Technological innovations have also influenced the wakeboard industry and these days, you get so many amazing features in a wakeboard that you can just not believe it.
Better the technology, better the wakeboard, and better the riding experience. Liquid Force is considered among those companies who are too much into technology when it comes to wakeboard. They make wakeboard into such a perfect machine that riders are too convinced to buy them. What makes the Liquid Force Watson Hybrid Men's Wakeboard a better choice than others? Let's find out.
Hybrid Technology- Perfect Riding
With some unique and amazing characteristics, Watson is one wakeboard which can provide you some amazing boosts off the wake. Exclusive pop with the drive is also a part of this board. The Watson performs the best because of the hull shape and has a buttery flex for the ultimate rail riding experience. Smooth, yet aggressive, Watson can be an amazing choice for our advanced riders.
Guaranteed Durability!
Class, Style, or Perfection? Well, Liquid Force provides you all three of them in one wakeboard i.e. Watson. Liquid Force has used an exclusive GRIND base for construction of this sander. The Sintered base material is long lasting and is durable especially, in the case of cable park riders. For stunts as well as soft landings, the middle section has Spiral "V" which is triple concave.
It helps in breaking the water which results in soft landings and rolls into turns much quickly and easily. Special Triax Glass Coating is present which provides the board a rigid structure from the center and increased longitudinal flex. Also, Liquid Force has used its own exclusive Liquid Rail which further adds to the durability of the board.
Specs and Features
Size: 143 cm
Colour: Black
Weight: 15 pounds
Dimensions: 3 x 20 x 60 inches
Designed For: Men
Fin Configuration: 4 removable molded-in fins
Rail Type: LF Exclusive Rail
Skill Level Required: Advanced – Expert
Base Type: LF Exclusive Grind Base
Pros
Special Triax Glass
Amazing Pop and boost
Drives smoothly
Advanced riders can easily perform amazing stunts
Cons
Beginners can't learn on this wakeboard
Verdict
Liquid Force has designed Watson with the aim to provide maximum satisfaction to the customers by providing maximum features in one wakeboard. What matters is that how you implement these features and how you ride this wakeboard. Consider it just like a toy which you can use like you want and it will still perform in the best way. Tough, Durable, and Long Lasting; what else could one need?
Price Disclaimer