O'Brien Baker Men's Wakeboard
$275.98
Pros
One for all wakeboard. Can be used in Cable park, boat or winch
Highly durable and resistant to pro-level damages
Added tip and kick
Sintered PTEX base
Exclusive pop
Cons
Not a suitable one for beginners. Only experts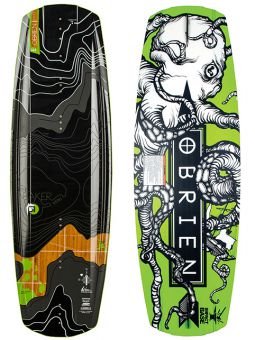 We can define a perfect wakeboard as the one which is a really durable and a long lasting one and provides you an ultimate riding experience in even the worst of conditions and plays along with your style. Well, such perfectionist wakeboards are hard to find, however, it is not totally impossible.
Let's just start by one of the top-of-the-class wakeboards, a wakeboard which completes the definition of a perfect wakeboard and a board which is suitable for advanced riders. We present you the O'Brien Baker Men's Wakeboard. People do confuse it with O'Brien Baker Blem Men's Wakeboard, but keep in mind that both of these models have a great difference.
Super Durable
Nick Ennen along with O'Brien wanted to design a wakeboard which could be ridden anywhere and can resist all types of pro-level abuse. In other words, they wanted to design a wakeboard which is a super durable one.
Well, both Nick Ennen and O'Brien made the Baker a super durable board by keeping the construction material same and by adding more rocker, making it stiffer from the center and more flex from the edges along with 4 molded-in fins. This not only adds to the performance of the wakeboard but also makes it more durable.
Boat, Park, or Winch- ALL OF THEM
The O'Brien Baker Men's Wakeboard is a unique one in the way that it can be used for all three ride types. Be it a cable park, or boat riding or winch; O'Brien Baker Men's Wakeboard is going to perform the best everywhere.
The bottom contouring helps you go anywhere and ride in any style you want to. This is a really nice feature which ultimately saves your money in the way that you don't have to specifically buy different wakeboards for different types of riding methods because only one can help you.
Specs and Features
Model Year: 2013
Size: 144cm
Weight: 15.43 pounds
Dimensions: 3.94 x 17.72 x 58.27 inches
Colour: Black Rasta
ASIN: B0081G0T2E
Rocker Type: Progressive 3-stage rocker
Dura-Rail side walls
Skill level Required: Expert
Pros
One for all wakeboard. Can be used in Cable park, boat or winch
Highly durable and resistant to pro-level damages
Added tip and kick
Sintered PTEX base
Exclusive pop
Enhanced edge control
Cons
Not a suitable one for beginners. Only experts
Verdict
Well, what else can be the verdict for Mr. Perfectionist if not a positive one? The O'Brien Baker Men's Wakeboard is a really nice choice because it can be used everywhere and has some special addition of features such as a steep progressive rocker line and full tip and tail profiles.
With these features and added durability, it becomes the best wakeboard for advanced riders. We would highly recommend this to someone who is an expert in wakeboard riding now.