O'Brien Format Wakeboard
$397.73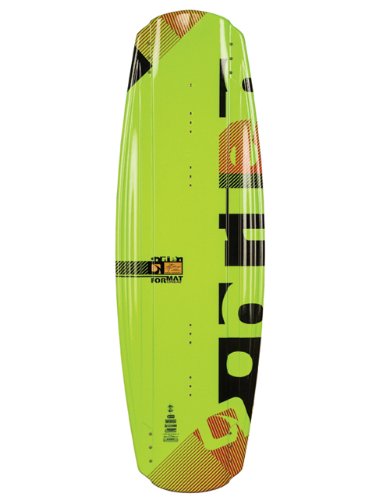 O'Brien has a wide product line and has been into the wakeboard industry for a long time. O'Brien's wakeboards are one of the most sold wakeboards in the market. O'Brien has been making some really amazing wakeboards such as the O'Brien Format Wakeboard which is ranked among the top 100 wakeboards on amazon.com.
The Format Wakeboard has been designed and developed by the famous wakeboard rider Josh Sander. He had the goal of perfection. O'Brien Format Wakeboard was his achievement.
Minted Fusion Core
Josh Sander has designed the O'Brien Format Wakeboard. Earlier on, it was introduced in only one size type. However, when it got a lot of customer attention and the company saw many potential buyers for this wakeboard, they introduced it into 3 different sizes. The O'Brien Format Wakeboard is now available in three different sizes of 132, 137 and 142cm; all of which have different prices.
The board features a minted core. The top to bottom has been constructed by wood stringers which make the wakeboard stiff. This ultimately results in reduced overall volume and decreased weight as well. A stiff wakeboard from the middle makes it easier to control and resist other potential damages. The Fusion Core gives us a board that is up to 1.5 lbs
Progressive Rocker ReI
Unlike other wakeboards which have a standard 3-stage rocker, the O'Brien Format Wakeboard is a completely different one. How? Well, there is a re-invented progressive rocker. The centerline has been lifted off the board towards the tips. This results in extra pop with no loss of speed. The double concave middle section further softens the landings as well.
There are flexible tip and tail which further softens the impact on the landings. As always, O'Brien has used the signature delta base for a faster ride and a full-length rail which increases edge hold as well as better edge to edge transitions.
Specs and Features
Size: 132, 137 and 142 cm
Model number: 2140062
Weight: 12 pounds
Fin Setup: (4) 0.7 inch Spine fins
Rocker Type: Progressive and re-invented 3-stage rocker
Base Type: Delta Base
Check Out this Review of the Best O'Brien Wakeboards this Year
Pros
Decreased weight
Easier To control
Superior Vertical Pop
Double concave through midsection
Can handle aggressive wakeboarding
Cons
Not suitable for people weighing more than 140 pounds
Over-priced
Verdict
The verdict for O'Brien Format Wakeboard is not only based on what we think. In fact, it is also based on the customer reviews on amazon.com. There is a 100% 5-star rating and one of the buyers have stated the fact that this wakeboard is enjoyed by his 11-year old son.
This proves us that this wakeboard is a great choice for buyers whether adult men or young children. The fact that it is available in 3 different sizes makes it accessible to everyone.
Price Disclaimer