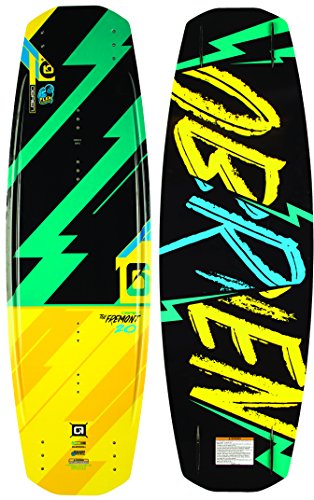 Wakeboarding is not just a sport for grownups. In many countries, it is a sport played by kids and children as well. You might be thinking whether there is any wakeboard which is designed for kids or not? Well, most of the companies don't design wakeboard for kids. They just simply think that adult wakeboards have a greater market and sales compared to wakeboard for kids.
Well, the O'Brien Fremont Blem Kids Wakeboard has been designed by O'Brien which is made for children and helps in easy and initial learning of wakeboarding.
Learn with fun!
For all those little buddies out there, the O'Brien Fremont Blem Kids Wakeboard is going to teach you wakeboarding with full fun. With a progressive 3-stage rocker, the board would go smooth and soft. There would be a nice pop and you might go up a few feet but it would all be under your control.
Whether you prefer to learn cable park riding or boat riding, the O'Brien Fremont Blem Kids Wakeboard is made for both of these riding types and you can learn it easily.
Land with Ease
Advanced riders often prefer stiff and hard wakeboards so that they can go to great speeds as well as have some expert skill riding as well. However, this is not the case with beginners or intermediates be it children or grownups. For this reason, the Fremont Blem Kids Wakeboard has the flex technology which creates much softer landings than most other wakeboards.
To give a better control to the young rider, the middle section is kept hard. This will also help in maintaining balance over the wakeboard. On the other hand, the tip and tail are kept flexible so that there are soft landings and the young riders don't hit the water hard.
Specs and Features
Size: 120cm
Colour: Yellow Blue Black
Designed for: Kids
Skill Level Required: Beginner
Weight: 15 pounds
Rocker Type: Progressive Rocker
Riding type: Cable park and boat both
Fin Setup: Removable Blunt fins
Check Out this Review of the Best O'Brien Wakeboards this Year
Pros
Flexible from tip and tail
Durarail Sidewalls
Flex Technology
Smooth and easy to learn
wallet-friendly price
Durable and long lasting
Stiff middle section
Cons
Verdict
Kids who are interested in learning wakeboarding must go ahead for the O'Brien Fremont Blem Kids Wakeboard. It will help them throughout their wakeboarding experience and would be the first brick towards the long road to advanced wakeboard riding.
There are some minor cosmetic defects which do not affect the performance and it is just the perfect riding board for your little ones. Learn as well as have fun with the O'Brien Fremont Blem Kids Wakeboard.