O'Brien Paradigm Blem 139cm Men's Wakeboard
$260.95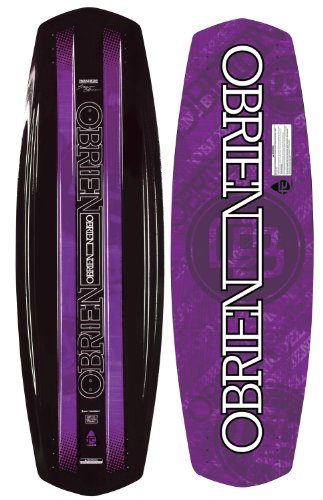 Many wakeboard riders go to the market but return back depressingly as they find some amazing wakeboards but in high prices. Not everyone can afford 400-500 dollars so easily. When companies saw this that they have potential buyers who are short in money, they decided to sell out those wakeboards which have some faults in design etc.
These wakeboards might not have been given a proper print or colour error might be there but the main and basic purpose of wakeboarding can be easily done through this wakeboard. Soon, big brands were able to sell off the stock which was factory-rejected on a good price. Since then, the name for these wakeboards can be identified with the word "Blem" in the name of the standard wakeboard.
One for all!
Before creating the O'Brien Paradigm Blem 139cm Men's Wakeboard , the company had one question and one aim and that was to build a wakeboard which can be used for all types of riding including Cable park riding, boat riding, and rails as well.
The Paradigm forges a unique union between wake and park riding, a board equally at boosting off the double up. This gives a good vertical pop to the wakeboard and it goes at high speeds as well.
Stiff yet snappy tips
The O'Brien Paradigm Blem 139cm Men's Wakeboard has a fusion core. This core makes the wakeboard a light one. It has top-to-bottom full-length stingers. This makes the wakeboard stiff from the mid-section. To make the tip and tail flexible, heavily ribbed cross-section and tapered geometry has been used.
The output is basically a board which is stiff and flex at the same time. HDPE (High Density Polyethylene) base is used in the construction of this wakeboard which makes the O'Brien Paradigm Blem 139cm Men's Wakeboard favorite one.
Specs and Features
Size: 139cm
Gender: Men
Designed for: Cable park, boat riding, and rails
Colour: Purple
Weight: 15 pounds
Rocker Type: 3-stage rocker
Base type: HDPE base
Check Out this Review of the Best O'Brien Wakeboards this Year
Pros
Designed for all types of riding
Easy to use
Amazing pop
Cheaper than the standard version
Safe and durable due to amazing base
Stiff and flex at the same time
Cons
Minor cosmetic defects
Change in size compared to standard wakeboard
Verdict
The verdict for O'Brien Paradigm Blem 139cm Men's Wakeboard goes out in the positive. Just like its brother O'Brien Paradigm 144cm Men's Wakeboard, this wakeboard is a great one as well. However, as it is a blem wakeboard it has a few faults which don't affect the performance of the wakeboard. For those who have no problem in buying a wakeboard with cosmetic defects, they can surely go for this one.
Price Disclaimer