O'Brien Skyla Women's Wakeboard
$182.95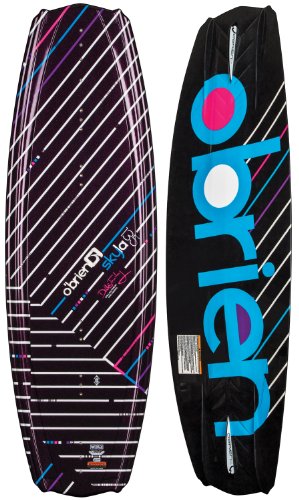 The trend of wakeboarding is rapidly increasing. Not just men but women also are showing a great interest in this sport. Many companies support women by creating wakeboards specifically designed to suit their needs. Women have a much harder time in learning wakeboarding than men. However, it is not impossible.
Once you have learned wakeboarding and have a good experience, you can just go for the O'Brien Skyla Women's Wakeboard which is one of the best and easily controllable wakeboards.
Cleaner Ride- Better control
What's better than a wakeboard that gives you a better control? Well, everyone would love a wakeboard which would have a lightweight profile and would be able to ride clean and fast out on the water. This also ends up giving fewer efforts to you. Moreover, with 1.25-inch rail fins, the wakeboard becomes further stable for anyone to ride.
This Dallas Friday pro model was designed specifically for females and will roll on edge easier, pop higher and will also ride with less drag than any other board in the O'Brien line.
Record some memories!
Many wakeboards offer the riders to have a camera or Go Pro fitted on the wakeboard. This helps in recording videos of your wakeboarding experience. One of the best things about O'Brien Skyla Women's Wakeboard is the fact that it comes with a multimedia mount.
Whether you have a Go Pro or Contour, there is a proper media mount slot where you can install your camera. Record some amazing memories on your ride. For beginners and learners, this feature helps in the identification of mistakes which are recorded in a video through a cam.
Specs and Features
GTIN: 0730918075714
Size: 129cm
Construction: Foam Core with Fiberglass Cap
Model Number: 2130038
Stance Width: 20-24 inches
Colour: Pink and Black
Product ID: 339883
Model Year: 2013
Skill Range: Advanced Intermediate – Expert
Board Width: 41.7cm
Bindings Included: No
Rocker Type: 3 Stage
Rocker size: 2.2 inches
Edge: Beveled Variable
Weight Range: 65-145 lbs.
Fin Configuration: Rail 1.25 inches
Check Out this Review of the Best O'Brien Wakeboards this Year
Pros
Low drag
Higher speed
Easy to control
Fin configuration makes it stable
Lightweight
Stable
Has a media mount insert slot
Thing profile
Cons
Bindings aren't included in this price, but there are options with bindings
Verdict
Well, the verdict for O'Brien Skyla Women's Wakeboard is surely a positive one. It is made for those women who have reached an advanced level of wakeboarding and have a great experience in riding. Get a Go Pro and record some fantastic videos as well.
Don't worry because it gives you a fast and smooth ride with low drag. Thus, there isn't any problem at all. Handling is at its best! You have one of the most stable wakeboards.