O'Brien System Blank Wakeboard
$101.41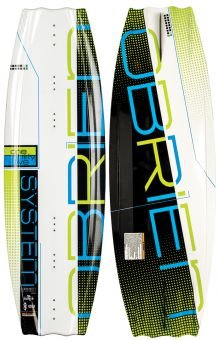 The O'Brien system blank beginner to intermediate wakeboard, designed by Chris Johnson is one of the most popular wakeboards that are being widely used by both amateur and professional wakeboarders all over the world. It has almost everything to offer. Its fast speed and super control are very attractive features for the wakeboarders as it makes their wakeboarding experience memorable and exciting every time they use it.
This is also probably because it is extremely durable, long lasting and efficient at the same time. It is very easy and comfortable for the riders of all ages and a wide range of weights.
Enhanced double barrel channels
The O'Brien system wakeboard is designed in such a way that its double barrel channels which exit both the tip and tail of the wakeboard greatly enhances the user control over the board and the wakeboard control over the surface of the water.
It provides the user with greater balance and helps him in the safe ride. People who already have experience of riding wakeboards feel very satisfied with this wakeboard as it makes their continuous wakeboarding experience memorable every time.
Continuous Rocker for increasing durability
There are center-mount 1.35 inches flank fins for easy and predictable tracking of the wakeboard and safe landing on the water surface. The predictable continuous rocker provides a predictable lift off the rail helping you in planning your next trick on the board.
This feature also helps the wakeboard to have a firm grip on the water surface and the rider also feels quite easy to use it. Its wide base with rails makes it much stronger and firmer.
Specifications and features
Length: 135cm
Shipping weight: 15 pounds
Package height: 19 into 2 into 55 inches
Continuous Rocker for strength
35 inches flank fins
Slick and Strong Base
Color: Multi-color
Enhanced double barrel channels
Designed by: Chris Johnson
Lightweight
6mm inserts
Check Out this Review of the Best O'Brien Wakeboards this Year
Pros
Durable
Safe ride
Fast
Ridiculously cheap price
Light and Strong at the same time
Cheaper than other wakeboards
Thinner and less friction producing
Very Useful for beginners and intermediates
Cons
Not very effective for people above 230lbs.
Verdict
The O'Brien System wakeboard is highly recommended to riders belonging to all age groups provided that they are below 230lbs because of its durability and constant smooth functioning. It is suitable for all sporting events due to its fast speed, firm balance and incredible comfort with which the rider can ride it.
It is one of the best sporting wakeboards and is being widely used by both beginners and intermediates for making their wakeboarding experiences much more adventurous and joyful. It does not only cost far less than other wakeboards but also is more efficient, hence it is worth a buy.
Price Disclaimer