Ronix 2015 Vault Wakeboard
$119.99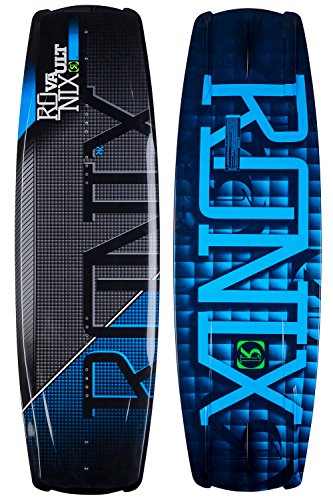 Yeah! You read it right up there the sports model wakeboard is out and about in the market. Its eye catching design and color is the basic factor as to why it is receiving so much attention from all over the world. Ronix has finally presented us with a perfect riding wakeboard and it does have some amazing features which you must need to know.
Stunt Helping Early Rocker is there now…
An earlier and a fine arc (as this wakeboard has) with a very smooth degree angle will have a more consistent glide up the waves. An expert water rider will now be easily able to make up more speeds water and land tricks further about into sands. A rider will now be successfully having faster and pretty much predictable along with effortless take offs.
Innovative Fin System
Toe side rails are now thinned out as to help one sit deeper in the water hence helping in creating and providing some additional and extra grip. The sharp Toe side fins which are made longer, deeper and closer to the rails for a stable and strong edge holds the Heel side rail for a soft start off required for a steady transition, then it eventually blends on to a vertical sidewall which has comparatively less resistance on the water.
Heel side fins are cut shorter and further away from the rail for quicker release helping in spinning tricks. The 4 molded asymmetric fins are truly a water rider's dream.
Specs and Features
Size: 134 cm
Color: Multi
Fin System: 4 Molded Asymmetric Fins, 2 "Fiberglass 1.7" Hook Fins
Fins (Number):2
Ability Level:Intermediate-Advanced
Rocker Type:Continuous
Core Material:Foam
Base Type:Standard Base
Warranty:1 Year
Monocoque construction
Check Out this Review of the Best Ronix Wakeboards this Year
Pros
Pre-installed M6 Hardware
Made for amateurs
Deeper Toe side fins
Shorter Heel side fins
Helpful for spinning tricks
Smooth landings
Quicker release
More grip
Krypto cable rails
Less resistance on water
Stronger core
More in contact with water
Faster take offs
Durable board
Light weight
Easy to carry
Cons
Not suitable for beginners
Bulky board
Size is less for amateurs
Verdict
The one and only way to master water surfing and toe side jumps is the Ronix 2015 Vault. The deck has been widened more, giving it larger surface area and consequently an easy handling for rough conditions. This innovative Vault automatically recognizes that your body is pretty much crossed up riding toe side.
Ronix altered the design of this wakeboard and resultantly the new design of fin system and rocker allows the riders to easily point the board towards the wake without requiring one to make complex attack angles. A great board made by Ronix for professionals and progressing riders, the Ronix 2015 Vault Wakeboard is simply something like a versatile platform which is insured for madness behind the boat.
Price Disclaimer