Ronix 2016 Kinetik Project Intelligent Park Core 2.0 Wakeboard
$419.97
Pros
Super soft material
Extremely durable construction
Continuous flex from rail to tip
Allows faster and easy takeoff
Lightweight
Cons
Pricier than some other models
Soft material might be an issue for different riders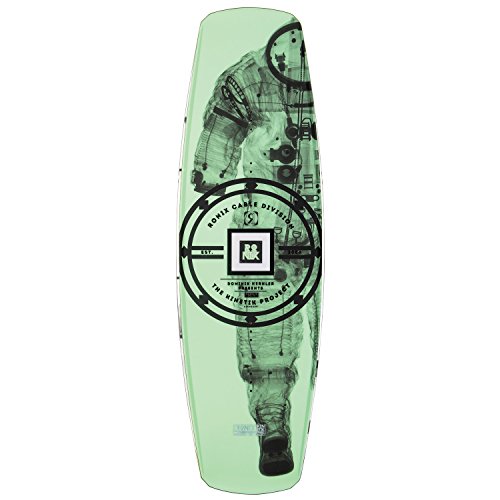 It can be really disappointing when you don't find the kind of wakeboard you are looking for or when the prices are sky high. Also, the quality varies from one board to the other. But who said that a wakeboard has to be made out of the standard materials, foam and wood? Ronix 2016 wakeboards offer to you a new special ingredient in its design that is softer than anything.
For someone who is looking for the most in feel and feedback at a park, and the Ronix 2016 Kinetik Project Intelligent Park Core 2.0 wakeboard is the one to get.
Uniqueness redefined!
With Ronix 2016 Kinetic Project, a rider can truly experience what it is like to be in motion. The Increased Early Rocker style of the board gives a smooth glide all the way to the wake and allows the rider to takeoff effortlessly. You will never lose impetus and force while riding this board.
The special material of the board is such that it feels super lightweight and it also offers decreased swing weight. The cable kingpin infused in the board helps the rider ride on top water speeds with an increased inboard feel.
A mix of distinctive features
Ronix 2016 features a unique ATR "S" Construction which is a diamond glass made of a very soft tip and tail which maintains excessive control on the rails. The glass transfers all the energy from rail to the tip before rebounding or bouncing across the water. This results in a consistent angle and an extremely durable quality which works best for cable park riders.
The G&R technology of the board has certain grip and release channels which provide the rider with all the resistance and adhesion they need while riding. It has vertical urethane speed walls that prevent the bumper from being hit by unpredictable hindrances and also allows increased water speed without any imbalance. The speed walls also help reduce friction and abrasion on all types of water.
Specs and Features
Rocker Size: 2.7 inches (standard), 2.8 inches (small)
Waist Width: 16.9 inches (standard), 17.1 inches (small)
Rocker Style: Park
Rocker Type: Continuous
Core material: Fiberglass
Base type: Slider/grind base
Check Out this Review of the Best Ronix Wakeboards this Year
Pros
Super soft material
Extremely durable construction
Continuous flex from rail to tip
Allows faster and easy takeoff
Lightweight
Cons
Pricier than some other models
Soft material might be an issue for different riders
Verdict
The Ronix 2016 Kinetik Project Intelligent Park Core Wakeboard is one of the newest models in the market that is quite distinctive from some other wakeboards. Like almost every other model, this board also falls short in some aspects. However, the new ingredient used in this design along with other factors has a lot of benefits to offer. Riders who look for the most in feel and a steady ride would love this design. The bottom-line is that this new model is worth its price.