Ronix 2016 Vault Wakeboard
$195.49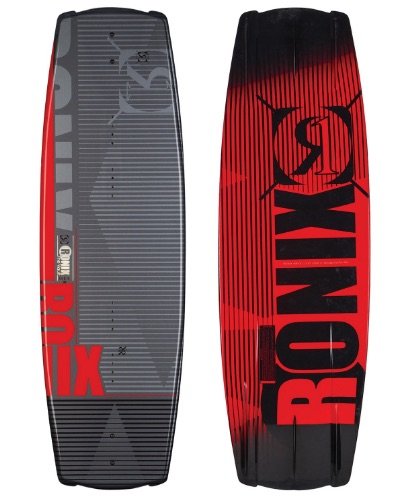 When it comes to wakeboards, one must know what they're looking for and which board is suitable for them. Every wakeboard has its own specialty and is quite unique. You would also want to get a wakeboard according to your riding level. However, you don't have to worry about all that with the Ronix Vault Wakeboard 2016.
This wakeboard is the best fit across all levels. Whether you are a beginner or an intermediate rider, you will find the Vault very flexible and accessible.
A single wakeboard for many styles
This wakeboard is not only very stable but it is also super user friendly which allows it to easily adapt to different riding styles. Whether you want to pull off a surface 360 or a toe-side backroll, it will help you do all. Its three stage rocker style is addressed to people with small wakes, as well as people with big wakes.
Ride with confidence like never before
The 2016 Ronix Vault wakeboard will help you experience riding freely without the fear of falling into the water. The 3-stage early rocker in the wakeboard's design will help you ride along strong waves very smoothly. The rider will be able to glide along the water even when transitioning without breaking the speed or pace.
The shape of the Vault has a thinner profile which establishes more contact with the water and reduces the frequent off-balance swings in the air. It has a toe side rail which is designed in a way that helps create a sharp grip against the water currents. Alongside the rail are long and deep fins which help to maintain a good control and hold.
The base of the board is made of non-stick material, making it super durable and preserves the quality for a very long time. The board is also covered with krypto cable wires which make the sidewalls of the board the strongest part of the entire structure.
Check Out this Review of the Best Ronix Wakeboards this Year
Specs and Features
Length: 139 cm
Rocker type: Three-Stage
Rocker size: 2.6 inches
Base type: Standard base
Waist width: 16.9 inches
Core material: fiberglass, foam
Pros
Highly durable
Top notch quality
Easy to use and ride for experienced riders
Lightweight
Ensures good hold and control
Cons
Thin profile may cause balance problems for some riders
No bindings
Verdict
The 2016 Ronix Vault is one of the latest models of wakeboards. The new features make it very easy and flexible to use.  It also makes the ride extremely smooth. Regardless of a few minor drawbacks, the benefits overpower the downside of it. All in all, it is a very good investment especially because it's suitable for all sorts of riders.