Slingshot 2016 Recoil Wakeboard
$293.99
Pros
Bomber G10 Fortified Fastrack
Elliptical concave
Strong and damage resistant
Can be ridden by all skill level types
Fastrack Taperwall Future Response tech
Cons
Not designed for basic beginners
Not recommended for people over 230 pounds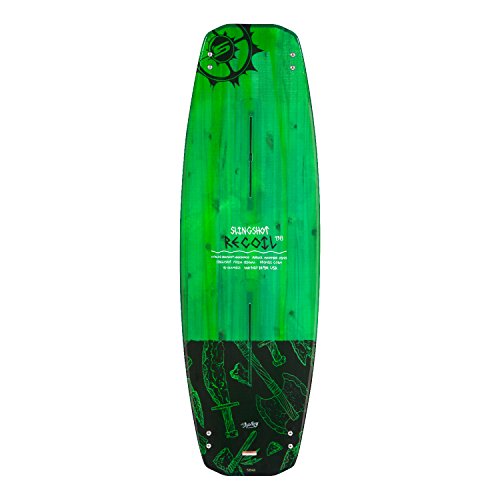 When wakeboard gets too much popularity from the customers, the company decides to introduce the same wakeboard in multiple sizes. This is mainly done because different types of wakeboards are designed for different skill level riders.
Slingshot launched the same wakeboard in different sizes so that all type of riders can ride that particular wakeboard and have done the same thing for the Slingshot 2016 Recoil wakeboard by introducing it in 3 different sizes.
Progressive riding made possible!
One of the features of wakeboard which many people like is Progressive riding. By Progressive riding, we mean a smooth ride along with an excellent pop as well. The Slingshot Recoil 2016 wakeboard has the G10 Fortified FasTrack which is inlaid deeper into the board.
It is locked in a place by a thick layer of G10. Ultimately, this helps in building the more resilient FastTrack system which can fulfill your dream of progressive riding. Further assistance to Progressive riding and an amazing wakeboarding experience is made possible by the three-stage rocker which is offered in the Slingshot Recoil wakeboard 2016.
Quality guaranteed
The Slingshot Recoil wakeboard 2016 is a handmade wakeboard. It has been designed in the US and has been a part of the Slingshot with family since a lot of time. It is mainly designed for boat riding style and has an ES Base which is one of the strongest bases used in the construction of wakeboards.
This ultimately makes the wakeboard quite stronger and resistant to damages. The design is a really attractive one as it has 4D Graphics.
Specs and features
Size: Available in 3 different sizes of 138cm, 142cm and 146cm
Color: Green Mix
Rocker Type: 3-stage abrupt rocker
Fin Setup: (4) 6″ x .75″ black wake fins
Model year: 2016
Base Type: ES Base
Flex: Medium
Graphics: 4D graphics
Core type: Atomic Core
Skill level required: Intermediate to advanced
Riding style: Boat
Check Out this Review of the Top Slingshot Wakeboards of the Year
Pros
Bomber G10 Fortified Fastrack
Elliptical concave
Strong and damage resistant
Can be ridden by all skill level types
Fastrack Taperwall Future Response tech
Gives an excellent pop
Cons
Not designed for basic beginners
Not recommended for people over 230 pounds
Verdict
The Slingshot 2016 Recoil wakeboard gets the positive verdict mainly because it has been designed for everyone and that everyone can enjoy its amazing features. It is a high-quality and handmade wakeboard with a medium flex today neither is there any hard landing nor is there any interruption in the high speed.
The powerful base makes it stronger and you don't need to worry about this wakeboard because it is surely going to last for years.
Price Disclaimer