Slingshot 2017 Nomad Wakeboard
$349.97
Are you looking for an activity to carry out during your free time? Then you should go wakeboarding. It is a water sport which requires a wakeboard on which the rider should stand and ride over the surface of the water. He has to maintain his balance as well. Now you must be thinking which wakeboard should you buy.
The greater the base area of the board is, the more user friendly it is. Therefore, you should check out the Slingshot 2017 Nomad Wakeboard. This board has a very high quality. It is designed for men especially. To know more about it, read the review below.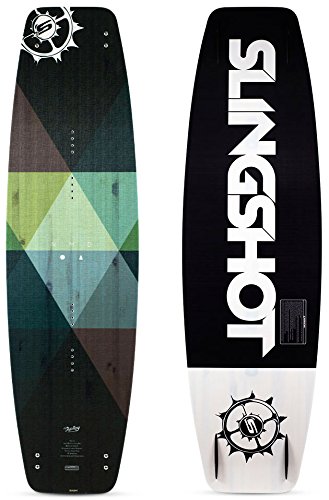 Maximum Stability Due to Greater Base Area
The 2017 Nomad Wakeboard has a very light weight due to which it's mobility is easy. You can also place it in your car and the store room as it does not take up much space. The base area of this wakeboard is greater in size. This feature makes are more user friendly and provides extra stability to the board.
You can easily place your feet on it. The shape of this wakeboard is long board and alo has fusion sidewalls which are brighter than ever. It will prevent the obstacles from bumping into the wakeboard and destroying your ride.
Continuous rocker keeps the ride smooth
Having a continuous rocker means your rides will be smooth as less water resistance is faced due to the shape of the wakeboard. It also has NACA tech channels allows the board to flow smoothly over the water and increases the pop, traction and speed. There are four 6″ x 0.75″ Wake Fins on this wakeboard as well. An additional feature in this 2017 Nomad Wakeboard is the carbon bedrock insert.
They are very strong and very flexible and allow for stance widths that range from 19.5 inches to 25.25 inches. This wakeboard is specially designed for the beginners and the intermediates. It is extremely user friendly and you can improve your skills with it.
Specs and Features
Dimensions: 59 x 20 x 3 inches
Rocker type: Continuous
Shape: longboard
NACA tech channels
Fusion sidewalls
Dura base
Four 6″ x 0.75″ Wake Fins
Carbon bedrock inserts
Designed for men
Beginner to intermediate level
Pros
Strong material and durable
Available in different sizes
Greater surface area
Great for all the riders
Very user friendly
Good for boats and smaller wakes
Very cost effective
Cons
Weight capacity should not exceed
Scratches might occur
Verdict
The question is, should you buy the Slingshot 2017 Nomad Wakeboard or not? I would say, you should. There is no reason you shouldn't buy it as it has an amazing quality and many great features like the continuous rocker, carbon bedrock inserts and a greater surface area.
This wakeboard is very attractive and also makes your rides joyous and easy. It is specially designed for the beginners and the intermediates. I would say, go online right now and buy this wakeboard by Slingshot before it runs out of stock.