Slingshot Choice 142cm Men's Wakeboard
$191.95
Pros
Durable wakeboard for male riders
Extremely soft and flexible landings
Easy board for learning tricks and other jumps
Easy transitions
Impressive 4D graphics and color pattern
Cons
Not recommended for aggressive wakeboarding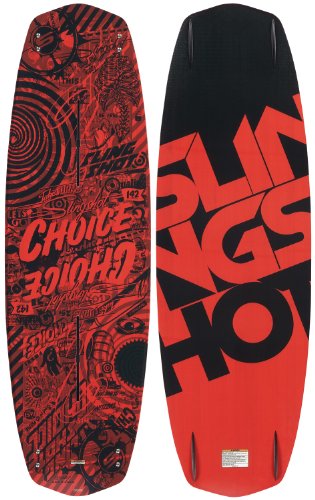 The Slingshot Choice Series wakeboards are one of the most popular of all their boards which was handcrafted to be very effective and affordable at the same time. The Choice series is one of the best lines, and one of the best-selling when comparing them with other high end manufacturers. Slingshot has become well known in water sports due to their continual improvements each and every year.
The Slingshot Choice 142cm Men's Wakeboard is one of their newest models that offers riders the same competitive advantage over other riders. Coming in as a very affordable wakeboard with a price tag under $200 and giving you many high end features to boot. Built with the needs of all riders in mind including those with a snowboarding mentality.
Effortless Edge to Edge Transitions
One of the best aspects of the Slingshot Choice Wakeboard is its effortless transitions edge to edge. Thanks to Slingshot's Flex Technology, this board gives riders the chance of hitting the wake with amazing speed and getting great pop coming off of it. Thrill seekers and those looking to take wakeboarding to the extreme while getting softer landings and flexible rebounds.
Choice also boasts a unique elliptical shape from tail to tip which helps give the rider the best ride possible. Offering great stability for newbies and a great foundation to land those big air 20 foot jumps, riders of all skill levels will find that this board compliments their needs.
Impressive 4D Graphics
One of the most popular mainstays with Slingshot wakeboards is the 4D graphics, and this couldn't be any more right than in the Choice wakeboard. This is one of the best boards visually speaking as the red and black color pattern had become extremely popular with male riders of all ages. This is much easier to say than other Slingshot wakeboards as this received no complaints from previous consumers.
Check Out this Review of the Top Slingshot Wakeboards of the Year
Specifications and Features
15 pounds
142cm
Fins: (4) – 6″ x .75″ Black Wake Fin
Continuous Rocker
Bio Sensor Core
Elliptical Concave
Recommended for riders of all skill levels
4D Graphics
Pros
Durable wakeboard for male riders
Extremely soft and flexible landings
Easy board for learning tricks and other jumps
Easy transitions
Impressive 4D graphics and color pattern
Great air off the wake
Carves through the water with ease
Cons
Not recommended for aggressive wakeboarding
Verdict
To say the Slingshot Choice Men's Wakeboard isn't impressive would be a true understatement. At every turn this board hits the mark as performance minded male riders as well as riders of all skill levels will surely agree. Boasting one of our highest scores, this Choice series model which was specifically crafted for male riders is highly recommended.
Price Disclaimer