Slingshot Pearl Blem Women's Wakeboard
$303.95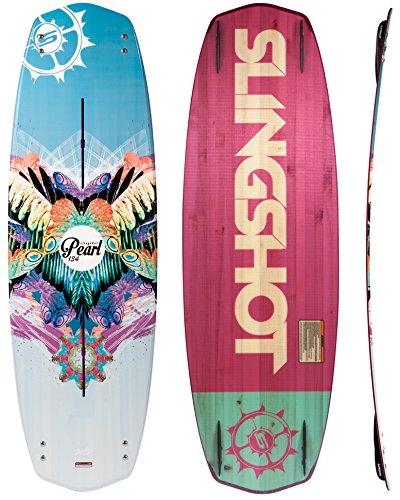 Slingshot is not just one of the most reputable water sport manufacturers here in the US, but international. Becoming reputable around the world takes a whole lot of expertise, and over the years we've seen this in high quality Slingshot wakeboards. Constructed for all riders including men, women and children, but it's their lineup of women's wakeboards that is starting to get them more notice.
The Slingshot Pearl Blem Women's Wakeboard is one of their newer models, and while it may not be the best one, it's definitely one of their best selling for women riders. This board features it all and was specifically created with the needs of women riders in mind. Whether you're a beginner or a professional rider looking for an upgrade, considering the Pearl Blem women's wakeboard is a great choice.
Soft Enough for Beginners, Durable Enough for Professionals
The Slingshot Pearl Blem Wakeboard is soft enough for beginners and durable enough for professionals. The versatility of this board has helped make it one of the best selling women's wakeboards on Amazon as the reliability, durability, and ease of use is what many riders look for the most. Complete with Slingshot's patented construction which consists of a thick layer of G10 which is a super strong epoxy glass composite.
But it doesn't stop there. The Pearl Blem creates some of the softest landings we've seen in a women's performance wakeboard. Slingshot's signature Future Response Flex Technology takes wakeboarding to the next level with amazing pop off the wake and extremely soft landings coming down.
Great Carving with Minimal Drag
Women riders looking for a wakeboard that gives you great carving through the water with minimal drag have found it. Those who have purchased the Pearl Blem already know as Slingshot's Fastrack Mounting System is an industry first. Found in all of their 2016 boards, this high performance technology allows you to carve through the water effortlessly and naturally at the same time.
The continuous rocker produces minimal drag, which ultimately means more speed going into the wake. Complete with 4 fins, riders looking for a thrilling ride and the best way to set up the wake will get just that, and so much more.
Specifications and Features
15 pounds – shipping weight
Bomber Glo Fortified Fastrack
Continuous Rocker
Elliptical Concave
ES Base
Flex – Medium
Slingshot Fusion Sidewall
Atomic Core
4D Graphics
Hand Built in the USA
Park Ready Tune
Taperwall
Future Response Technology
Fins: (4) – 6″ x .75″ Black Wake Fin
Built Using Resin X
Check Out this Review of the Top Slingshot Wakeboards of the Year
Pros
Amazing women's graphics
Super soft landings
Highly durable, even for aggressive riders
Big air wakeboard makes it great for jumps and other stunts
Lightweight and very strong
Natural reflexive nature seen in turns
Minimal drag
Great carving
Cons
Verdict
The Slingshot Pearl Blem Women's Wakeboard is a performance riders dream, and beginners looking to get there will get the stability they need to become much better, in no time at all. The Pearl Blem is undeniably one of the best women's wakeboards on the market which is why it's received one of our highest review scores to date.
Price Disclaimer