Slingshot Shredtown 135cm Men's Wakeboard
$279.95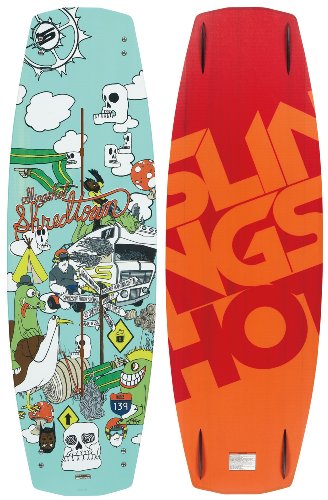 Slingshot wakeboards are definitely not for everyone although the performance that each and every one brings to the table should be. Slingshot is one of the few manufacturers out there that really stands behind what they believe in and over the years they have lived up to their own lofty expectations. Riders of all skill levels have fallen in love with many of their boards, but the visuals have been known to turn some riders away.
The Slingshot Shredtown 135cm Men's Wakeboard is more of the same as it offers an amazing performance package, but its visuals won't appeal to all. The unique design quality is for a certain subset of riders, but there's no question as to the high level performance features. Slingshot has made a known for them around the globe as it brings with it years of experience which shows with each new model.
Gets Better with Time
Slingshot has been around the block for a few years, and over the years their wakeboards have gotten better with each model year. The Slingshot Shredtown is a 2014 model and is significantly improved over the previous model. When looking at performance, Shredtown will match any 2014 model and even by today's standards it's still one of the best performing wakeboards on the market.
Specifically designed for men, Shredtown comes in at 135cm long and can accommodate newbies to the most skilled professional. The high end features is representative of extreme water sport technology which sets up a highly durable, very strong, and a true big air wakeboard. Great pop with soft landings will appeal to the inner child in you, no matter what your skill level is.
Thinned Out Core for Improved Flexibility
Slingshot decided to thin out the core of this 2014 model Shredtown which significantly improved flexibility. This had a profound effect on the landing which is not only soft, but very stable. For a big air board, this is extremely important, but a necessary component for those looking for a true stunt wakeboard. Those looking for those 20 foot drops off the wake down to a flat landing will appreciate the large surface area which helps absorb the shock of high impact landings.
It goes much further than the thinner core as it boasts a very strong Atomic Core construction. Durability won't be a problem considering it also features a fusion sidewall, slantwall, and Sliderite Chined Rails.
Specifications and Features
15 pounds shipping weight
135cm length
Recommended for riders of all skill levels
4 fins
Continuous rocker
ES Base platform
Atomic Core construction
Fusion Sidewall
4D graphics
Industry first Fasttrack technology
Sliderite Chined rails
Check Out this Review of the Top Slingshot Wakeboards of the Year
Pros
Rail riding experience
Soft landings
Very durable wakeboard
Easy to learn on
Great for learning tricks, jumps, and stunts
Carves through water effortlessly
Can handle aggressive wakeboarding
Cons
Unappealing visuals
Newer model out
Overpriced for a 2014 model
Verdict
With all things considered, the Slingshot Shredtown Wakeboard is an all-time favorite for men of all ages and skill levels. Despite its unimpressive graphics, this board takes the sport itself to a whole new level and despite the fact it's a 2014 model Slingshot proves that some things seem to get better with time. This board is highly recommended if it's performance you're after, especially considering the price.
Price Disclaimer