Slingshot Super Grom Wakeboard
$183.95
Pros
Unique 4D Super Grom graphics
Available in two different sizes
Great learning board
Stable ride for youths
Good flexibility and soft landings
Cons
Visuals definitely appeal to a younger generation of riders
No fins
Not recommended for professionals
Not suited for aggressive wakeboarding
Durability concerns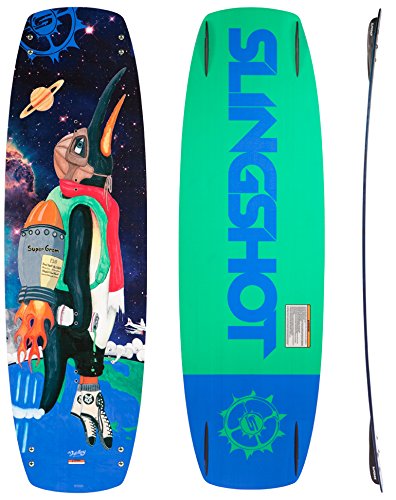 Youth wakeboards are hard to come by, at least any that are actually worth buying. This was before Slingshot got into water sports, and since entering into this very competitive realm a few years back they have made a pretty good name for themselves. The Super Grom series is one of their finest which was specifically created with younger riders in mind whether it be beginner, intermediate, or professional wakeboarders.
The Slingshot Super Grom Wakeboard is a youth board which features some high end specs which include a continuous rocker and comes in two different sizes. You can choose from a 125 and 130cm board which is perfect constructed with youth riders in mind. Coming standard with Slingshot's customary 4D graphics, it's safe to bet you won't find another wakeboard that compares to this.
Great for Newbies, Feature Rich for Intermediates
The Slingshot Super Grom is a great wakeboard for newbies and is feature rich for intermediate riders. Beginners will appreciate the ES Base which offers a good mix of flexibility and rebound. Despite not having fins, the subtle tail and tip embossed channels allow the water to flow naturally giving riders an added sense of traction.
The wider board provides a good foundation which is better suited for beginners. Intermediates will appreciate the twin-tip grab rail which will help perfecting tricks and helping get more air coming off the wake. Boat and park riders will see a better overall wakeboarding experience, but advanced level riders will find that Super Grom is well-underequipped.
Resin X and Vertically Laminated Wood Core
Durability is one of the biggest concerns with the Slingshot Super Grom wakeboard which features a vertically laminated wood core. The Resin X composite makes it a bit stronger, but most other Slingshot wakeboards feature a higher end technology. This makes aggressive riding not an option, and those looking for a great deal of speed may want to look elsewhere.
Check Out this Review of the Top Slingshot Wakeboards of the Year
Specifications and Features
15 pounds – shipping weight
125 and 130cm length
Continuous Rocker
Embossed Channels
ES Base
Flex-Soft
XL Fusion Sidewall
Atomic Core
Twin-Tip Grab Handle
Slingshot Fusion Sidewalls
Hand Built in the USA
Resin X
4D Graphics
Unique Slingshot Construction
Recommended for beginners and intermediates
Pros
Unique 4D Super Grom graphics
Available in two different sizes
Great learning board
Stable ride for youths
Good flexibility and soft landings
Cons
Visuals definitely appeal to a younger generation of riders
No fins
Not recommended for professionals
Not suited for aggressive wakeboarding
Durability concerns
Not very fast
Verdict
The Slingshot Super Grom Kid's Wakeboard offers a good balance for the avid and newbie youth rider. This is a good beginner's board and is suitable for intermediates looking to get onto the wake while expecting flexibility and very soft landings. There are concerns such as durability and speed, and this board is not recommended for those looking for an aggressive wakeboard.
For the price which comes in around $190, there are definitely better youth wakeboards out there that give you more bang for your buck.
Price Disclaimer