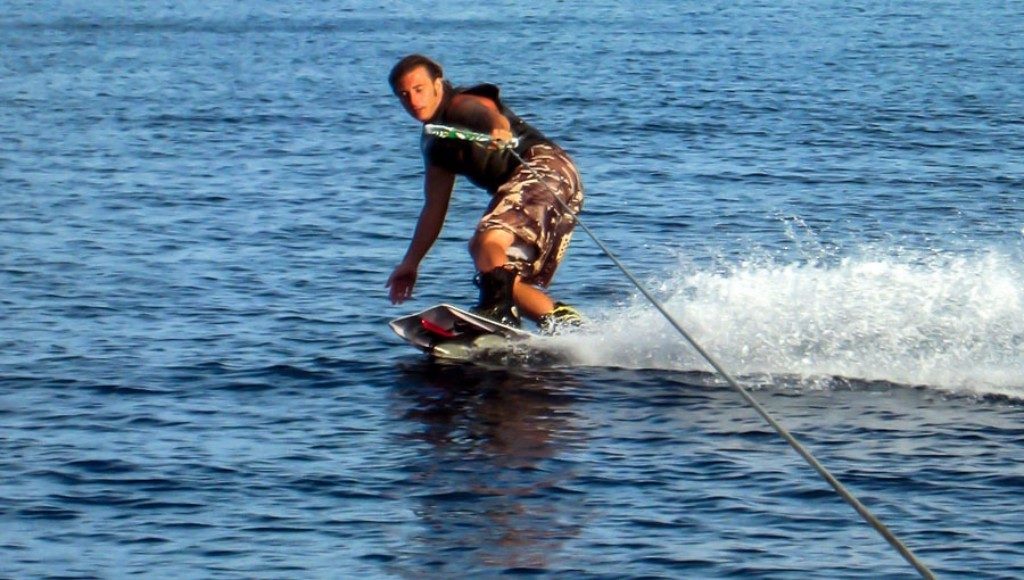 There's no denying that wakeboarding is one of the most amazing water sports out there, and if you're looking to become the next rider than finding the perfect wakeboard is a must. Experienced rides say that the board makes all the difference, and this couldn't be any closer to the truth. Wakeboards that are introduced specifically for beginners are created with a great deal of precision, but finding those diamonds in the rough are nearly impossible.
Wakeboards for beginners create an amazing foundation that is stable, comfortable, and literally gives the rider confidence. Sure, you can go with the cheapest board out there, but this doesn't mean that it will give you the competitive edge over another. Byerly, Body Glove, Ronix, Jobe, Rave, and many other names in water sports have taken everything into consideration to turn beginners into intermediates almost overnight.
The following review takes a closer look at the Top 10 Wakeboards for Beginners for 2017 and details all the reasons why.
10.0/10
Pros
Light and Strong at the same time
Cheaper than other wakeboards
Minimum drag and optimal control
Comfortable and easy to use
Thinner and less friction producing
Cons
Not suitable for people above 150 pounds
Coming in as the #1 wakeboard for 2017 is the O'Brien Valhalla. This superior advanced wakeboard offers everything that any type of rider could ask for. This board makes riders significantly better as beginners will gain the confidence they need to instantly become intermediates, and pro level riders will surely appreciate the extreme durability.
The Valhalla is a performance based platform as the stability, comfort, and ease of use helps it stands out from many of the other wakeboards in this review. If you're looking for a board that won't cost you a fortune, but gives you amazing speed, natural carving, super-soft landings, great pop, and improved control, then the best wakeboard this year is the only one worth considering. Coming in with a price tag that is significantly less than most at just over $250, O'Brien once again proves why they've become one of the leaders in water sport technology.
10.0/10
Pros
I-BEAM makes it extra durable
Long lasting
Less strain on body
Smooth landings
Easy to control and lightweight
Cons
Expensive
Few left in stock only
There are only two wakeboards that score a perfect 10 out of 10 and the One I-Beam Timebomb Core is one of them. This 2017 upgrade screams perfection from bottom to top which sports some impressive black and green visuals which are more than complimented with some of the top water sport features you will ever see.
Ronix did everything right starting with its unique Anodized Midnight color scheme which is unlike any other wakeboard out there. Built to withstand some of the most aggressive riding which comes in highly recommended for more experienced riders who can take full advantage of the Speed Walls, 3-stage stance rocker, and I-Beam technology. The One I-Beacm Timebomb wakeboard is not for everyone, but it withstands the test of time which will give you some relief from the $600+ price tag.
9.9/10
Pros
180's to spins and flips
Full-length center spine for soft landings
Deep channel for rider control
4X4 molded fin package with removable 1 in. plastic center fin for stability and traction
Designed for Beginner/Intermediate/Advanced
Cons
Not for riders who are EXTREMELY Professional
The CWB Factory Blemish Reverb is a stunt wakeboarder dream as this aggressive natured board is fit or the stunt level riders. Tricks, stunts, and 180's are a breeze with this performance minded wakeboard which comes in highly recommended for all riders, but best suited for beginners and intermediates. The learning curve of the Factory Blemish Reverb helps set this board apart from most, but with a price that comes in around $400 it's not for your typically weekend rider.
This wakeboard will literally make you a much better rider as the transitional state from newbie to advanced level rider comes from a board with the stability such as this. The Factory Blemish Reverb offers superior speed, performance, durability, and features modern visual design elements. Take to the wake with a subtle 3-stage rocker which will have you owning the wake coming off with super soft landings.
9.9/10
Pros
Very responsive wakeboard with great handling and control
Minimalistic color and design qualities
Very durable and lightweight
Great learning board
Can handle aggressive wakeboarding
Cons
No bindings included
Only comes in 134cm length
The Hyperlite 2016 Prizm is easily the best-looking women's wakeboard on the market, and scoring a near perfect means the performance package is as amazing as the visuals. The 2016 Prizm is a significant upgrade over the 2015 model which can be seen with more speed, better carving capabilities, great pop coming off the wake, and a very stable platform for beginners, intermediates, and advanced riders alike.
The 2016 Prizm is a female wakeboarder dream which comes in at just 12 pounds. The lightweight construction is further complimented with the 3-stage rocker, mellow center landing spine, durable Monocoque construction, layered glass, M6 inserts, satin flex finish, variable edge design, and a whole lot more. Coming in around $300 bucks, this board is an amazing deal considering all that it brings to the water.
9.9/10
Pros
Amazing women's graphics
Super soft landings
Highly durable, even for aggressive riders
Natural reflexive nature seen in turns
Great carving with minimal drag
Cons
Not only is the Slingshot Pearl Blem wakeboard the best women's board on the market, but it's also one of the best of the year for all riders. Scoring an impressive 9.9 out of 10 which puts it in the top five for 2017, the Pearl Blem holds nothing back for when looking at what all riders are looking for. Built from the most durable construction, responsive design elements, and features that were specifically designed for female riders makes this board a top seller.
The Pearl Blem is a technologically advanced wakeboard that offers great carving and amazing drag. This high-performance board comes in highly recommended for riders of all skill levels as beginners will find that it's more than easy to learn on and more experienced riders will love its aggressive nature. Highlight features of the Pearl Blem include Slingshot's Bomber Glo Fortified Fastrack, Atomic Core construction, Future Response technology, and amazing 4D female graphics.
9.8/10
Pros
Durable
Safe ride
Fast
Light and Strong at the same time
Cons
Not suitable for people above 135 Pounds
Premium wakeboard with a premium price
The CWB Groove is a performance based men's wakeboard which is one of the all-time best sellers on Amazon.com. The Groove offers some very unique visuals which appeal to riders looking for something truly unique giving them the ability to stand out which also gives riders a much thinner and less friction producing base.
Speed and carving ability is what helps make the Groove a top rated wakeboard but it also provides riders one of the most stable platforms that is extremely lightweight, but highly durable. Performance won't be an issue either thanks to the variable height ABS rail, Triax layup, Trans base, and so much more. At just under $400, this wakeboard is recommended more for pro level riders than enthusiasts, although riders of all skill levels can take their wakeboarding ability to the next level.
9.8/10
Pros
Lightweight and strong
Fast and durable
Full-length center spine feature softens landing
Designed for beginners and pros
Rocker gives it more pop than any other competitor
Cons
Not suitable for people over 130 pounds
The Marek Bio from Hyperlite is an all-time classic and while it's not the newest board in this review its easily one of the best. You will be hard-pressed to find a better wakeboard out there visually, and the performance package integrates everything Hyperlite stands for. Giving beginners, intermediates, and advanced level riders great pop, amazing speed, immense durability, and one of the best boards out there to handle some of the most difficult tricks and stunts.
The Marek Bio offers an aggressive orange and black color pattern, but the best qualities go far beyond what anyone can see. Featuring an abrupt continuous rocker, Biolite 3 core construction, Carbon Torsion Zones, 9-degree angled fins, molded landing feature, two stage channel, layered glass, Enduro Base, and much more makes this wakeboard one of the most sought after.
9.7/10
Pros
Nice pop
Soft landings
Easy to learn
Made for beginners
Durable and long lasting
Cons
Only fitting for beginners
The Divine series by Hyperlite has become one of the best-selling of all time for kids. This high-performance series showed great promise over the years with significant upgrades with every model. The 2017 Divine Jr. Kid's wakeboard is no different which helped it score an amazing 9.7 out of 10 and claim one of the highest scores of any children's wakeboard ever.
The 2017 Divine will visually appeal more to girls than boys, and the amazing attention to detail makes it one of the best visually for female riders. Recommended for beginners, this board offers a very stable platform which makes wakeboarding possible for anyone out there. Featuring a 4 molded-in fin, layered glass, forgiving 6-degree edge, M6 insert, continuous rocker, V-bottom channel, and Hyperlite's own Monocoque construction.
9.7/10
Pros
Lightweight
Strong and durable
Flex technology provides softer landings
3-staged rocker gives pop off the wake
Fast
Cons
The 2017 Arris is another top-rated women's wakeboard from one of the premier manufacturers in water sport products which offers numerous upgrades over the 2016 model. The impressive graphics with a tame light blue and white color scheme appeals to female riders while giving you a competitive edge due to high end performance features.
Boasting a 3-stage rocker, wide center concave, PU Wood Core construction, grind base, and much more leaves little doubt in the minds of performance minded wakeboarders. Offered in two different sizes including a 133cm and 138cm option makes the 2017 Liquid Force Arris highly versatile for children and adult female riders. Skill level won't be a problem either as this board is recommended for beginners, intermediates, and pro level riders.
9.7/10
Pros
lightweight and strong
damage resisting base reduces damage
clean and fast shape
flexible yet solid enough for solid landings
comfortable and easy to use
Cons
not suitable for people over 130 pounds
few boards left in stock
The 2017 Butter Stick is one of the newest boards out there and would probably have received higher than a 9.7 if more riders were familiar with this board. Let me start of by saying that Liquid Force did something right with this 2017 upgrade that features highlight features and one hell of a design. This Butter Stick was designed for riders of all skill levels and has been stated by a select lucky one's out there that this board is one of the easiest to learn on.
The design elements that went into the 2017 Butter Stick literally gives riders a competitive edge. The ease of use and amazing comfort means it's fit for longer rides which appeals to diehard wakeboarders looking to spend some quality time on the water. The damage resistant full-wood core construction with Flex Zone tips provides you superior durability and unparalleled carving capabilities.