Rave Sports is relatively new within the wakeboarding industry, and in a very short amount of time they've managed to make a pretty big name for themselves. Over the years, there have only been a few manufacturers that have made themselves standout from all of the rest who offer a good mix of quality, performance, and affordable wakeboards outside of Rave. Expect this to change moving forward as this sport is quickly becoming one of the most popular watersports internationally.
Rave Sports Wakeboards offer riders a competitive edge over much of the competition as their boards match up perfectly with junior and adult riders alike. While they may not have hundreds flooding the market, but what they do have are technologically advanced when comparing them with many others. Introducing some amazing wakeboards that help take the entire sport to a whole new level offering unique style, graphics, and performance based boards.
The following review takes an up close and personal look at the Top Rave Sports Wakeboards of 2017 giving you the best distinction of some truly amazing boards.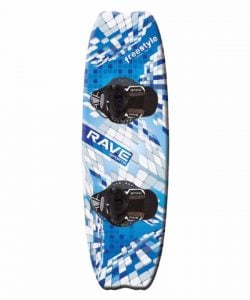 10/10
Pros
Great for aggressive riders
Amazing design and color pattern
Great board for tricks, jumps, and other stunts
Soft landings
Superior control and grip
Cons
Not recommended for beginners
The Rave Sports Freestyle Wakeboard is hand-down one of the best boards on the market, period. This performance based board is not recommended for beginners, but intermediates and professional riders will find it's hard to live without. Everything this board has to offer including appearance, performance, speed, and durability are all virtually flawless
Freestyle comes in at 139cm which makes it a great ride for youth riders and thanks to its durable construction aggressive riding won't be an issue. With Striker Bindings included, those looking for more of a security, stability, and rider control will have all that, and much more. Performance based features include continuous rocker, unique 4-point design, lace up boots, and an amazing color pattern.
Getting on the wake in style is one thing, but doing so without breaking the bank and having the best chance of owning the wake is just this Rave Sports Wakeboard will do for you.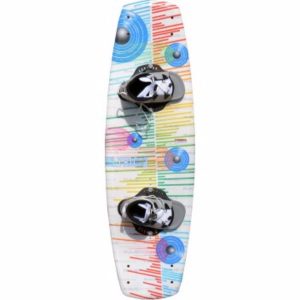 9.3/10
Pros
Great board for tricks and jumps
Great for beginners, intermediates, and expert riders
Multi-adjustment system which fits most adult shoe sizes
Extremely durable
Lower price point than other high performance wakeboards
Cons
For adult riders, meet the Rave Sports Lyric 2 wakeboard which has some amazing graphics and water themed color pattern. This board is highly recommended for adult riders of all skill levels and helps make riders much better in no time at all. There is no learning curve as beginner riders can learn tricks and jumps on day one and advanced level riders can tackle some of the most aggressive riding yet.
The price comes in at just under $280 which is a small price to pay for a superior quality, very durable, and lightweight wakeboard that gives you plenty for your buck. High performance features include a 3-stage rocker, carbon fiber and laminate core, Lyrca lined Advantage Boots with a multi-point adjustment system, and a progressive edge. Scoring a 9.3 out of 10, this is one heck of a board and one of Rave Sports best.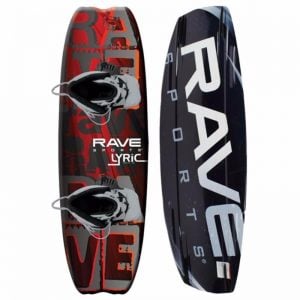 9.1/10
Pros
Very durable
Great visual appeal
Great for surface tricks
Recommended for intermediate and experienced riders
Adjustable fit
Cons
Not recommended for beginners
Heavier than most
Coming in around $175, the Rave Watersports Lyric Wakeboard scores a respectable 9.1 out of 10. This performance based wakeboard is not for the weak at heart as its best suited for those looking to take full advantage of the wake and score some amazing tricks. The unique styling package helps this board standout, but what makes it really amazing is the performance features that riders seem to love.
The Lyric wakeboard is a top seller on Amazon and at 141cm it's best suited for adult riders with an intermediate and advanced skill set. Beginners will find the learning curve is a bit too much, but for those looking to learn how to perfect jumps and other stunts will find it perfect. Complete with a nice set of Advantage Boots, the secure, comfortable and stable fit helps refine your wakeboarding experience.
9.0/10
Pros
Charger Boots are adjustable fitting most children shoe sizes
Very stable, especially for shorter riders
Great wakeboard for learning
Great price for the complete package
Very secure around the ankle
Cons
Not recommended for advanced riders
Not good for extreme stunts
The Junior Impact 2 is one of the best Rave Sports youth wakeboard out there. Scoring a 9.0 out of 10 and coming in at just over $230, it proves that value can be found in a performance based wakeboard that's best suited for children. This is a complete package coming equipped with a great pair of Charger Boots which gives riders a very secure and stable fit which helps you get the most out of the wake.
The Rave Sports Jr. Impact 2 wakeboard is recommended for both beginners and intermediates and is a great learning board for tricks. Getting big air won't be a problem thanks to the continuous 2" rocker and the unique oval design makes it easy to carve through the water with ease. Great ankle support due to the Velcro strap and durability won't be a concern with the fiberglass construction.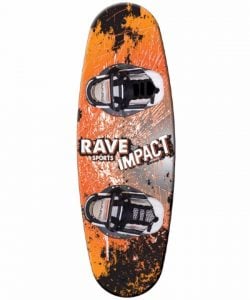 7.4/10
Pros
Great wakeboard for beginners, but not too easy for intermediates
Secure grip
Charger Bindings fit most child shoe sizes
Easy to learn tricks, jumps, and other stunts
Great entry level wakeboard
Cons
Not good for extreme stunts
Durability concerns
Not very fast
The Rave Jr. Impact Wakeboard comes in at 122cm and scores a 7.4 out of 10. This board is good, but far from perfect as there are many performance based issues that keeps it from being recommended for experienced level riders. Beginners will find the Jr. Impact a good learning board, but after this it'll be time to upgrade. Coming in at around $180, it's a bit overpriced for what you get.
The Jr. Impact is still a quality board for youth riders featuring a nice set of Charger Bindings which give you a secure fit that fits most children's shoe sizes. Learning tricks and other stunts is possible, but there are some durability concerns which keeps us from recommending it for advanced wakeboarding. The Continuous rocker will give you some good pop coming off the wake and softer landings than other boards out there.