Slingshot Sports Terrain Wakeboard Review
Unlock those nose and tail presses with ease. Great control for park wakeboarding.
Are you looking for your first park wakeboard? The high prices of quality wakeboards may shock you, but today, we will let you in on a little secret. You can get a wakeboard that will allow you to progress from a beginner to more experienced wakeboarding before you need to buy a new one. For this, the Slingshot Sports Terrain wakeboard comes highly recommended.

Slingshot Sports has been making wakeboards (and other water sports gear), since 1999, for all user levels. With time and experience, their wakeboards have seriously improved. They launch a new wakeboard range for every season. The new Slingshot Sports Terrain wakeboard is now available for the 2023 wakeboarding season. We love the classic design and features that the Terrain wakeboard is known for.

What makes this board ideal for beginners and more experienced wakeboarders? The secret is in the features, such as the continuous rocker profile, wider tip and tail, and ultra soft flex design. This Slingshot Sports Terrain wakeboard review reveals the outstanding features of this cable park wakeboard and how they're designed to improve your wakeboarding.
Continuous rocker profile
Length: 140cm, 144cm, 148cm, 152cm and 156cm
Carbon bedrock inserts
Wide tip and tail profile
Single-Shot Fusion Sidewalls
Ballistic Base
Atomic Wood Core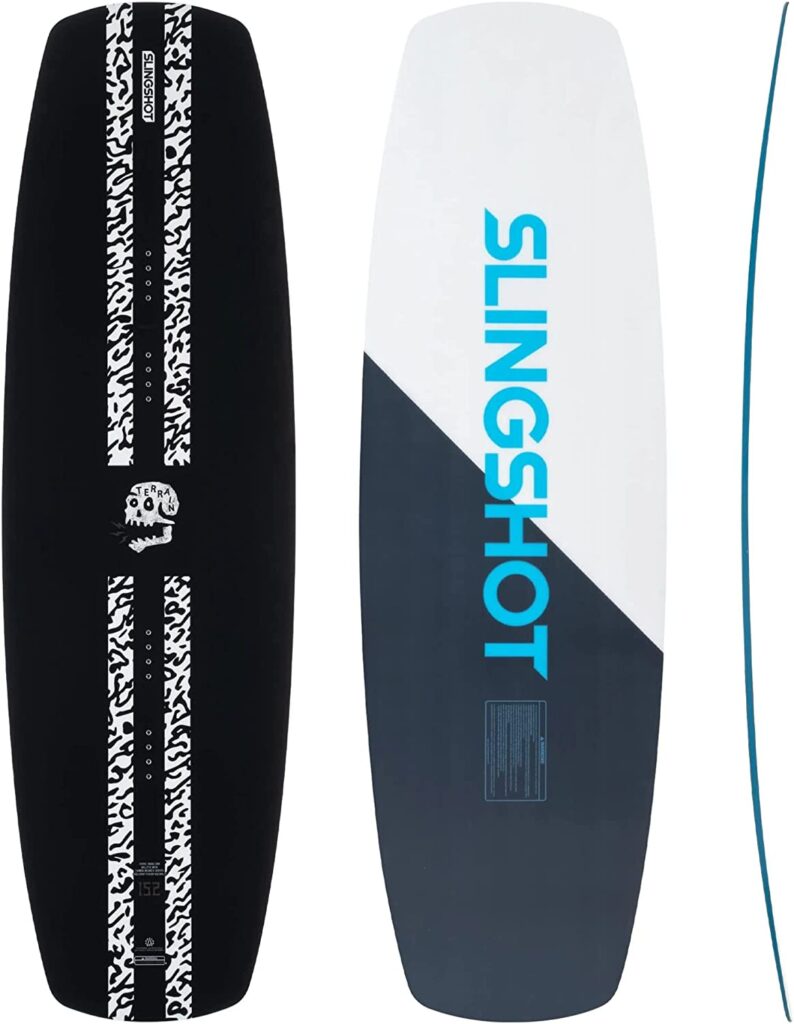 Perfect for rail sliding: Learn nose and tail presses easily
Any Slingshot Sports Terrain wakeboard review will show you how easy it is to do tail and nose presses using this board. Knowing how to tail press helps you unlock more sliding power. This is very important in a cable wakeboard.
A nose press requires you to press the front foot down and lift the rear foot. It may look so easy from a casual glance, but it is quite a mean feat to achieve.

Thankfully, the Slingshot Terrain Sports Wakeboard is designed to help wakeboarders unlock tail and nose presses as it gives more control. The extra thick sidewalls, wider tip and tail, and softer flex make it easier to stay on an obstacle till the end so you can learn to master rail sliding.

When on the water, you will enjoy the stability that comes from the wider tip and tail. The wide surface area of the board gives it more contact with the water, which means the speed may be a tad slower. But hey, when you are a beginner, you need stability and control more than speed.
Slingshot Sports Terrain Wakeboard is durably built
Like most of the other Slingshot Sports wakeboards, this one is constructed with a vertically laminated wood core.

Some of the benefits of this type of construction include giving you an excellent pop. It also makes the Slingshot Sports Terrain Wakeboard board stronger and gives it more flex, which you will appreciate when rail sliding.

The Slingshot Terrain wakeboard has a ballistic base. This is a 0.7mm, resilient and high quality base. It glides easily on water, rails and other surfaces and protects the board from damage as it slides over obstacles in the park.

The continuous rocker on the Slingshot Sports Terrain wakeboard makes it not only easy to control, but also predictable. These are good qualities for a wakeboard designed for beginners. The board offers a consistent experience whether you are riding at high or low speed.
The single shot fusion wakeboard walls means the walls and the core of the board are fused. This is what makes the board easy to control over the park obstacles.This features works in combination with the soft flex design of the Slingshot terrain wakeboard to get it to respond to every nudge and direction.
You get incredible balance and control on the water
Soft flex technology used in the wakeboard makes it very responsive
Carbon bedrock inserts make the Slingshot Sports Terrain wakeboard lightweight
Excellent dampening thanks to the single shot fusion sidewall design
The wider tip and tail help with greater control to keep the wakeboard locked onto the rails all the time
Not designed for boat wakeboarding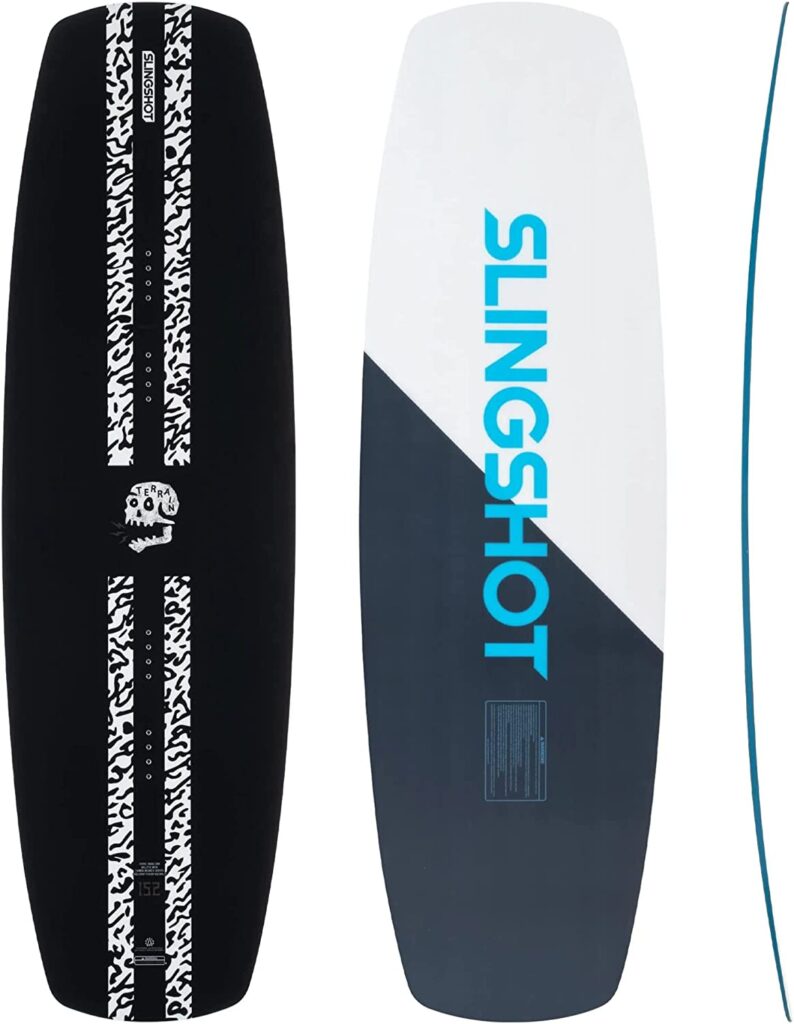 The Slingshot Sports Terrain wakeboard offers many sought after qualities such as stability, flex and ultimate control. It's an ideal wakeboard for guys who are getting started at the wake park and with a variety of sizes will suit many riders.
Slingshot Sports have packed a lot of flex into this board, which makes it a marvel for rail sliding and nose and tail pressing. The vertically laminated wood core and the ballistic base make the board incredibly durable so it'll last as long as it takes you to learn and progress your skills.
Finally, the continuous rocker profile makes the board fast on the water so you can enjoy some heart pumping speed. Even at speed, this Slingshot Sports Terrain wakeboard review allows you great control and stability. We think you'll love this board.
You might also be interested in ...