General Wakeboarding Information
Everything you need to know to confidently and safely get out on the water wakeboarding
A Brief History of Wakeboarding
Wakeboarding is a sport that is relatively new, and if you are new to the sport yourself, our general wakeboarding information will help you get started on the journey.
Having it's origins in water skiing and surfing, it is said to have begun because surfers wanted to find the endless wave rather than having to wait for the perfect wave and some water skiiers found water skiing, well, a little boring.   So, the sport of "ski-boarding" or "skurfing" began.  Renamed "wakeboarding" in the early 1990's opened the way for the launch of this fun and popular water sport and the advances in wakeboard technology began. 
Wakeboarding is now considered one of the most popular watersports and is available across the country for everyone from young kids to those getting on in life.  One of the great advantages of wakeboarding is that you don't actually need to own a boat to participate in the sport.  The introduction of cable parks has made wakeboarding an affordable extreme sport for many. 
The fun of wakeboarding is found primarily in the speed that can be achieved on the water.  Whether you are being towed behind a boat or jet ski or at a cable park, the speed which the rider can achieve as they approach and hit the wake allows for lots of air as you pop off the wake.  And air means tricks, inverts and spins, that allow the wakeboarder to push themselves to the limit and feel the adrenaline rush so commonly associate with extreme sports. 
Find The Wakeboarding Information You Need
Wakeboarding Buyer's Guides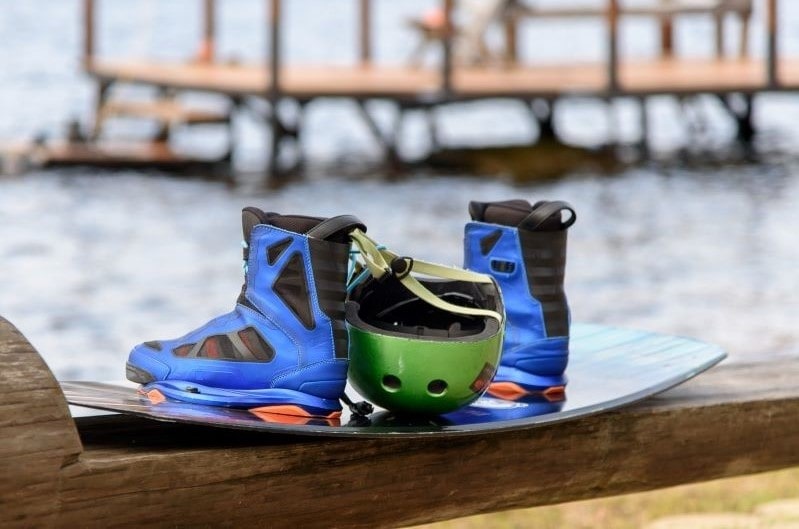 If you are looking for wakeboarding gear, our thorough buyer's guides, will help you understand the different features of wakeboards and wakeboarding gear and why they are important. We'll help you make a great purchase of wakeboards, bindings, boots, life jackets and vests, helmets etc. that you are happy with and will suit your purpose.
The Latest Buyer's Guides for 2023
Get the best advice when purchasing your new wakeboarding gear.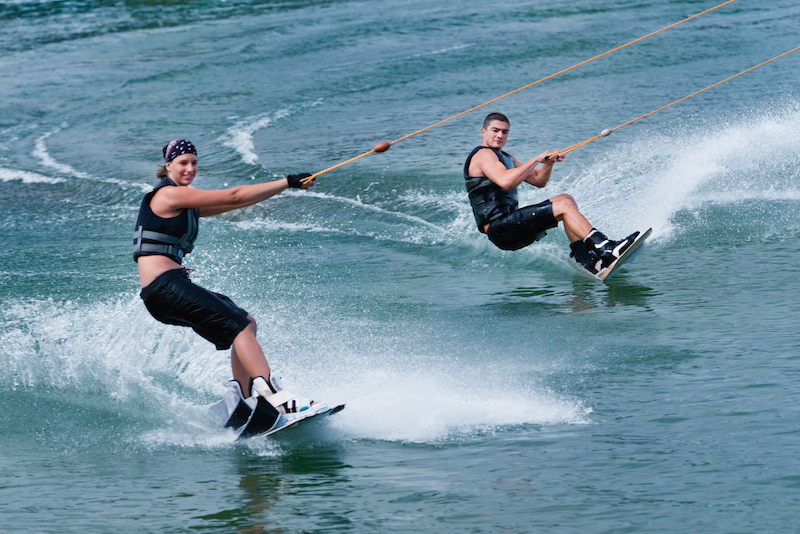 We want you to have fun out on the water and be safe. There are some things that you need to be aware of when taking the boat out and towing a wakeboarder, such as licensing, watersport codes, and safety equipment.  Hand signals are a must and you need to be sure that the driver, spotter and wakeboarder are all clear on what those signals are.  It's always a good idea to have a chat to your wakeboarder before they get in the water and find out what their experience level is too so you can tow at an appropriate speed. 
Articles About Water Safety
Be safe and be responsible on the water.  We'll help you find all the information you need to get out on the water and having fun, safely.
Wakeboarding How-To Articles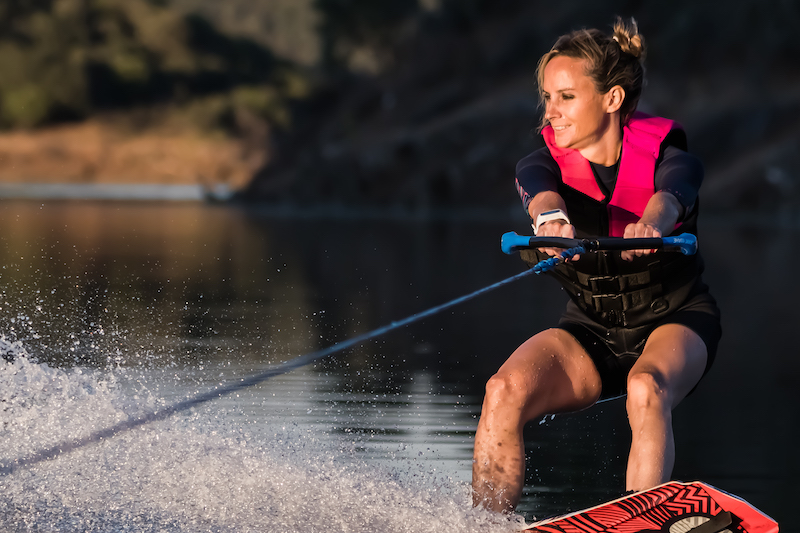 Everything you need to know to enjoy wakebaording. Our how-to's are ideal for beginners, with practical tips such as how to get up on a wakeboard and also things like how to attach bindings, maintain your board and equipment, etc.
Our Best How-To Wakeboard Articles
Whether you are trying to get up on a wakeboard, tow a wakeboarder or maintain your equipment, we've got all the helpful, practical advice you need.
When you're buying wakeboarding gear it's important to get the size right for the wakeboarder who will be riding. Wakeboards come in a variety of sizes and need to be accompanied with the right size bindings for the best wakeboarding experience.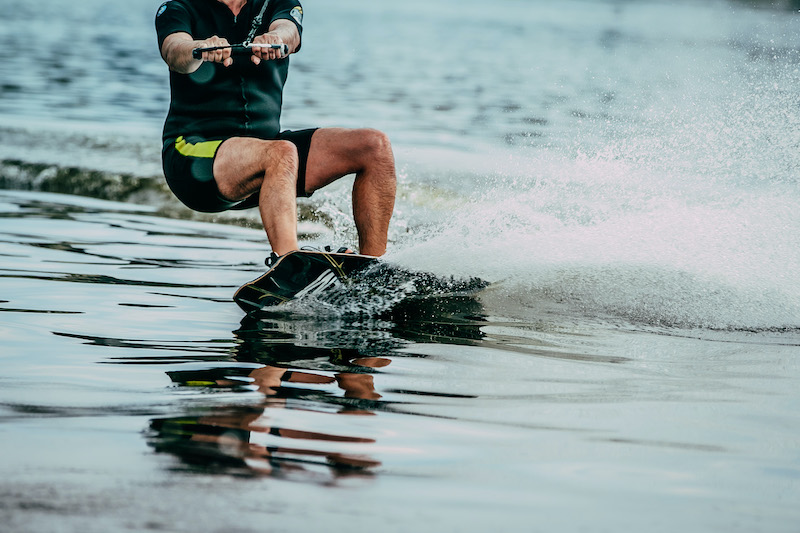 Wakeboarding Size Charts and Guides
For beginner and experienced wakeboarders, having gear that fits right will help you be more comfortable and successful.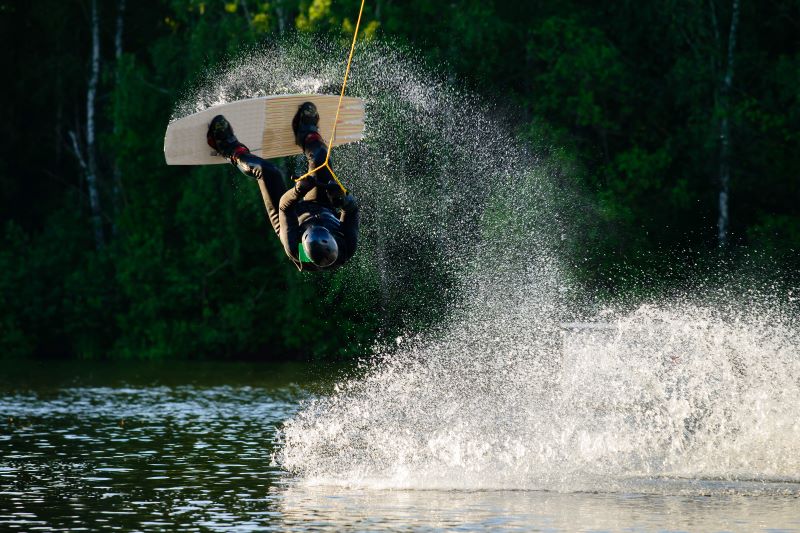 We've got a great list of tricks for beginners and the more advanced rider and will point you in the right direction for being successful at them. We have pulled together some of the best wakeboarders to learn from and to help you nail those tricks you've been practising.
Our Latest Articles For Wakeboarding Tricks
We've got plenty of information on the best wakeboarding tricks you can master at any level.  
The Wakeboarding Community
The wakeboarding community, consisting of wakeboarding organizations, individuals and the best wakeboard brands, provide helpful wakeboarding information, sponsorship and leadership to those who enjoy the sport.
There are a number of wakeboarding organizations that support wakeboarders in their chosen sport.  
The World Wakeboard Association (WWA), begun in 1989 by Jimmy Redman, provides events for both amateur and pro wakeboarders globally.  These events provide fantastic opportunities for competitive wakeboarding and provide a stage for wakeboarders to showcase their talents and challenge their abilities.  They provide the World Series and National Series and regional, national and world champtionships.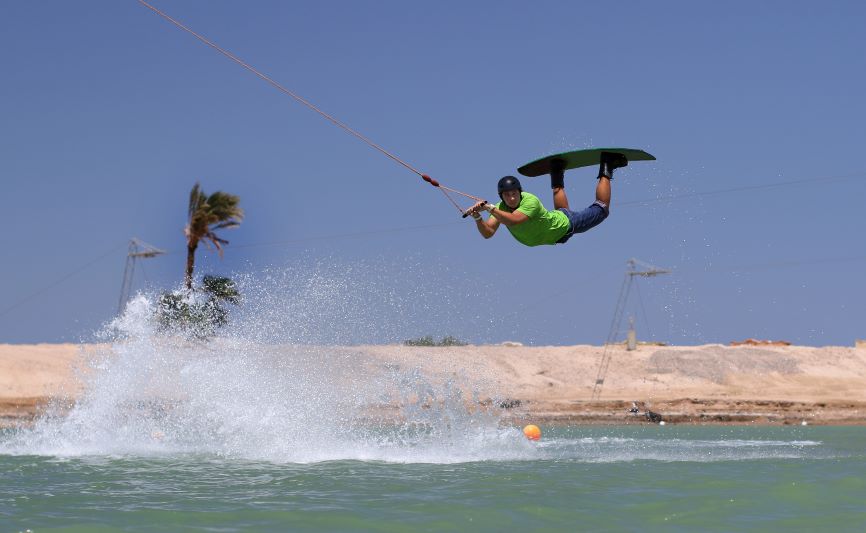 The WWA has been the governing body of the sport providing membership for wakeboarders at different levels, sanctioning programs, competitive rules and standards, and opportunities for organizers to create events to grow the wakeboarding community. 
Many of the best wakeboarding brands work in partnership with professional wakeboarders to design pro wakeboard models that bring the experience of the wakeboarders to the board's design and combine this with the best technology to create wakeboards that are specific to different riding styles and situations. 
In addition to this, they also work with industry associations to promote safety and acceptance of water sports.  One example of this is both Liquid Force and Hyperlite's association and support of the Water Sports Industry Association (WSIA) with the mission to "promote and protect all towed watersports". 
Wondering Where To Wakeboard?
You've purchased the gear and the weather's great. Find the best wakeboarding locations for the ideal wakeboarding vacation.
We all know exercise is good for the body, physically and mentally, but does wakeboarding have any benefits other than being a whole lot of fun.
We couldn't provide general wakeboarding information without looking at the benefits of the sport of wakeboarding.  It's easy to see that wakeboarding is a lot of fun and satisfying, especially when you nail those tricks you've been working on.  But there are a lot more specific benefits of wakeboarding that are worth discussing. 
Physical benefits of wakeboarding
A summer of wakeboarding out on the water is great for your physical strength.  The number one thing to be aware of – be sun safe when you're spending a day out on the water. 
Core, Arm and Leg Strength – being pulled around on the water by a speedboat or cable, and holding onto a rope requires a lot of strength.  Not only in your arms, but the legs have to work quite hard and keeping your balance is great for core muscles strength.  As you are pulled around you are constantly flexing throughout your body, holding your position, and resisting forces being applied to you.  Wakeboarding really is a full body workout and it's quite possible you may find a few muscles you didn't know you hard when you start out in the sport.  The good news, exercising those muscles will only make you stronger. 
Flexibility – To participate in the sport of wakeboarding, you need flexibility from your feet to your hands and throughout your body.  The feet are constantly moving to maintain the connection with the board and the hands need to maintain the grip on the handle in all situations.  And as you start progressing with more advanced tricks, you'll discover how flexible you are trying to invert and spin as your moving.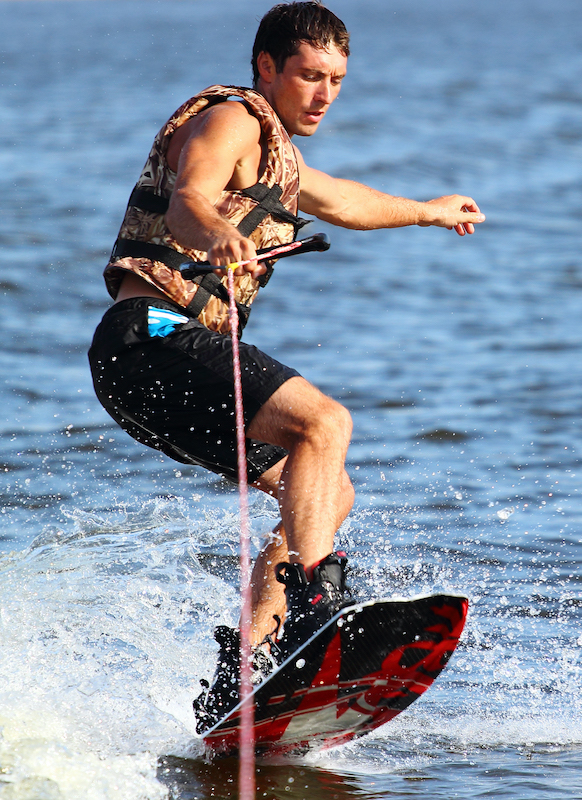 Balance and Coordination – Your core strength is definitely put to the test as you ride on a wakeboard.  Start adding movement to your wakeboarding, either across the water or into the air, and it's a whole new level.  Landing a wakeboard is great for building your core strength.  It's also great for hand-eye coordination as you pass the handle around your body, grab the rail, but also gross coordination as you tuck your feet under you, focus on the horizon and move your body through the necessary positions to perform tricks. 
Mental benefits of wakeboarding
With mental health becoming a focus in our society and culture, it's great to have a variety of ways to support mental health and wakeboarding can be one of those. 
Concentration and Focus – Wakeboarding is a skill that not only requires physical fitness but mental fitness as well.  Constant concentration and focus is required to mentally prepare for jumps and tricks and then to perform those tricks accurately and safely.  Even whilst riding a wakeboard on the flats, riders need to maintain focus to feel the movement of the board and keep 'connected' to the board.  This is great for helping kids to build their concentration 'muscles' that can then be applied to other situations.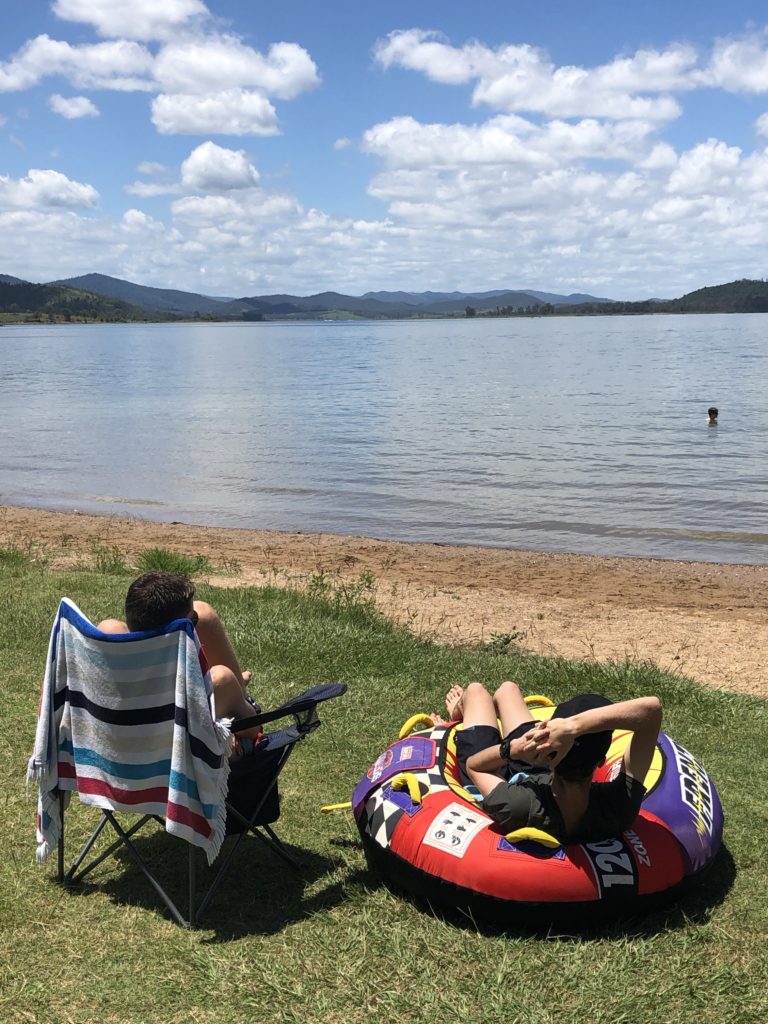 The Great Outdoors – We all know how refreshing it is to get out of the city, and away from the daily routines of life.  Wakeboarding is an excellent way to enjoy the outdoors.  The scenery surrounding some of the most popular wakeboarding locations is amazing and just being outside in the sunshine benefits one's mental state.  And of course a dose of Vitamin D is always good for the body – just remember the sunscreen.  It's refreshing to be outdoors, to leave the screens behind for an extended period and be refreshed and invigorated being out in nature.  And when it turns from summer to winter and you're wondering is wakeboarding like snowboarding, then why not get out and try adapting your new skills to the snowy slopes. 
Persistance and Resilience – In our modern day it's so easy to want things in an instant, and if we don't get them, move on.  But the character we can build from being persistent and trying something over and over again to achieve it is enormous.  For some people, it takes multiple efforts to just get up out the water.  I remember when I started wakeboarding, my first attempt I popped straight up out of the water.  I thought I had perfected it.  The second attempt was not so easy, but with persistence, I got there and it was a such a great feeling to have not given up.  And when learning to wakeboard there can be lots of crashes,  which helps build resilience.  You've got to keep getting up and keep trying, take the knock backs but don't let them knock you down.  Get back up and have another go.  Great lessons for our kids and teens to learn. 
Confidence – Wakeboarding is considered an extreme sport. It's a bit out there!  But how good do you feel when you get up on a wakeboard, and stay up for the first time. It's exhilarating and boosts your confidence immensely.  And then when you start nailing new movements and tricks you can help but feel like you have achieved something.  This is great for people to realise they can overcome fears, overcome challenges and achieve something they may have never thought was possible.  And ensuring people are safe with the right life jackets and safety gear and knowledge can help to create an environment that allows people to get out of their comfort zone and challenge themselves.
Find the right wakeboard and wakeboarding gear
Recommendations for kids, beginners, women, men and experienced wakeboarders
Social benefits of wakeboarding
What better way to bring people together for a day of fun than getting out on the water.  Combine this with some wakeboarding action and there's bound to be a lot of laughs in the mix.
Wakeboarding is a great sport for people of all ages. It's an ideal way of bringing families together and one of my favourite weekends of the year is Easter, camping by the lake with a group of families who all love watersports.  It's great to get started with others who are already into the sport because they can share all the wakeboarding information with you to kick start you in the sport.  And most wakeboarders I know are more than happy to share their love for the sport with others.  And the social benefits are great camping together because not only is there the fun on the water, but also around the campfire at night. 
Kids can start wakeboarding from a young age, some starting as young as 5 or 6.  But it doesn't matter what age you start at, the main requirements are a healthy body and a willingness to have fun and try something new.  Cable parks have also made wakeboarding accessible for everyone, no need for a boat, and this can be a great way to celebrate a birthday or special occassion while trying something new.  
There are quite a few places that run wakeboarding summer camps across the US and these are a great way for kids to spend some of their time in summer, getting out and enjoying the great outdoors, while making new friends and meeting others who they can share the fun of wakeboarding with. Wakeboarding is a lot of fun and an invigorating sport and that's always fun to share those feelings of success with others and encourage each other in their endeavors.
The Right Wakeboarding Information
Having the right information is a great way to get started with a new sport.  It's always helpful to share the knowledge we have and we hope that you will find all the wakeboarding information you need here to get you out on the water, feeling safe and confident, and ready to enjoy the sport with family and friends.  And the great thing about water sports is there are so many options to have a go at, kneeboarding, tubing and water skiing can all be part of a fun weekend away. 
For us, wakeboarding is more than an extreme sport.  It creates a space to connect with others, to laugh together and share life, to build physical fitness and enjoy being outdoors, and to challenge and grow.  And for those who love the competition side there is plenty of opportunities to be involved and take your wakeboarding to the next level. 
Latest Articles on Wakeboarding Information
Find great product reviews and general information about the sport of wakeboarding.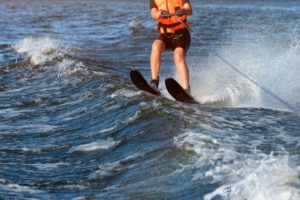 Wakeboarding vs water skiing, is there a winner or do you just love both? Learn what makes them similar and...
Read More