O'Brien System Wakeboard Package Review
Very popular wakeboard with fast speeds and super control
The O'Brien System wakeboard package is perhaps the perfect package for youth wakeboarders and those a little older.  It's uniquely designed to cater for beginner to intermediate wakeboarders, and is a hugely popular board for both amateur and professional wakeboarders all over the world.  With design features that offer fast speed and super control, it makes wakeboarding easy, but still satisfies more advanced wakeboarders who are increasing their skills.
It's a very durable wakeboard designed to last for season after season.  The O'Brien System wakeboard, combined with the bindings in this package result in an easy and comfortable wakeboarding experience for riders of all ages.  It comes in a range of sizes to suit juniors and to accommodate adult wakeboarders. 
Specifications and Features
Length: 119cm, 124cm, 135cm and 140cm
Bindings vary in size with the board, and include 2 options for the 140cm length
Continuous rocker for stability
Molded fins and removable Attack center fins
Feather core construction
Slick and strong base
Enhanced double barrel channels
Lightweight
6mm inserts
Extra buoyant core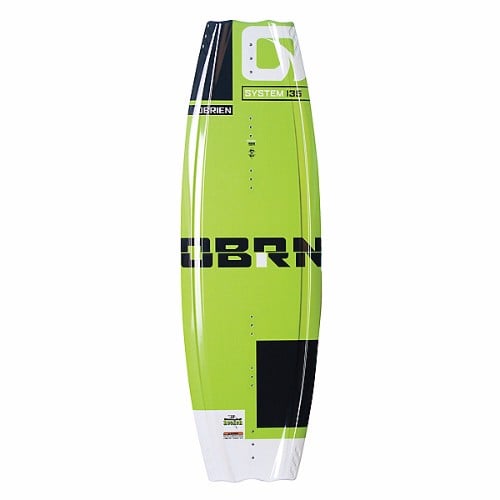 The O'Brien System wakeboard package is highly recommended to riders belonging to all age groups who are looking for a beginner board that will grow with them as they improve at wakeboarding.  It's durability and consistent smooth performance makes it an obvious choice for many wakeboarders who enjoy recreational wakeboarding or those who are more professional.   This board will give you a very comfortable ride. 
For beginner wakeboarders, it all starts with getting out of the water.  The O'Brien System wakeboard has an ultra buoyant foam core that helps to make it effortless to get up and going.  Designed in such a way that the dual channels on both the tip and tail of the wakeboard, give the rider greater control over the board as it moves over the surface of the water.
Experienced wakeboarders also enjoy this wakeboard as the simple design and durability make it a board that allows them to develop and perfect their skills and techniques.  The comfortable wakeboarding experience means the rider can stay out on the water longer.
Continuous Rocker for increasing durability
The center-mount removable fins ensure easy and predictable tracking of the wakeboard and safe landing on the water surface.  As you progress and want more control the fins can be removed as needed.  The continuous rocker design provides reliable stability off the wake and on landing. 
This feature also helps the wakeboard to have a firm grip on the water surface allowing the rider to feel in control. Its wide base with rails makes it much stronger and firmer.
O'Brien System Included Bindings
The first thing to note with the bindings is that they are designed to fit any rider with the open-toe design.  They are a lightweight and comfortable, but sturdy design that allows the rider to have maximum connection to the wakeboard, allowing for greater control.
O'Brien System Wakeboard Package Price
Check for the best pricke on the O'Brien System Wakeboard Package
Durable construction
Safe, comfortable ride
Fast speed with maximum control
Affordable price
Light and strong at the same time
Range of sizes available
Great for beginners and intermediates
we struggled to find any with this board
O'Brien System Wakeboard Package
The O'Brien System wakeboard package is highly recommended for wakeboarders of all ages and differing abilities.  It's a great all-rounder board to have on the boat for when friends come along and are keen to try out wakeboarding.   It's been described as the perfect board to learn on.  Becuase of its durability and constant smooth functioning it will be a board you are keen to hang onto for many years as your skills improve.
The O'Brien System is one of the best sporting wakeboards and is being widely used by both new wakeboarders and those more advanced for making their wakeboarding experiences a lot of fun. This package is an affordable option for getting started and will allow you to progress from a beginner to intermediate rider in no time.  We think it's one worth buying.
You might also be interested in...