CWB has always been making wakeboards which have got excellent feedbacks because of their excellent quality. Barely any issue is seen and even if there is an issue, it's a pretty small one. Well, CWB has made the CWB 2017 Connelly Mode Draft Wakeboard which hasn't so far yet received any negative feedbacks; in fact, there was one customer who was appreciating too much.
We do expect this from CWB right? So, let's find out whether the 2017 Connelly Mode Draft is actually a good choice or you should consider something else? Read on to find out the answers to all your questions.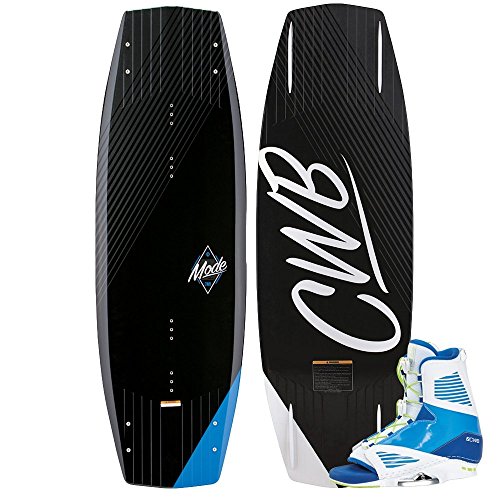 Pro Core
The name suggests it already but for further clarification, the Mode Draft Wakeboard has a pro-quality core which has been designed for professionals. Beginner users will not find such a core in their boards. This core is basically designed to resist any pro-level abuse or rough time.
Other than that, it is a super light density closed cell polyurethane which means that it is strong enough to resist any of the possible damages too. There is a double center spine which helps you keep the track of board straight and make your stunts in the best possible way.
V-tech in Tip and Tail
This is a feature which is added in the wakeboards to provide a smooth transition between the edges making it easier for the rider to have his stunts made. The ride gets smoother as this feature kicks in. other than that, there is a continuous rocker as well which has a size of 3 inches. This is big and it is suitable for giving an extra pop off the wake.
There are basically 4 bolts on fins each of which is 7 inches in size and that is fair enough. The weight range for this 2017 Connelly Mode Draft is 150 pounds and above and the length is 141 cm. it is available in other lengths too.
Specs and Features
Construction: System 80 Core
Fin Configuration: Four1in Bolt on Fins
Weight Range: 150lbs+ (@141cm)
Rocker Type: Continuous
Rocker: 3.05in (@141cm)
Board Width: 17.46in
Skill Range: Intermediate – Advanced
Model Year: 2017
Pros
Pro core made to withstand damage
High weight range
Smooth transition between edges
Explosive pop off the wake
Core is of super light density
Durable and lightweight
Cons
Verdict
The verdict for the CWB 2017 Connelly Mode Draft Wakeboard goes out in the positive for intermediate and advanced level users since it is not an easy one for the beginners. It has several pro-level features which include pro core as well that is basically made for some tough resistance and not an easy one.
Other than that, it is going to be a great one and you will enjoy performing flawlessly out there in the open. Barely any cons have been reported and users have been appreciating this wakeboard. So why not give it a try? Find the right size today and get it from amazon.com.